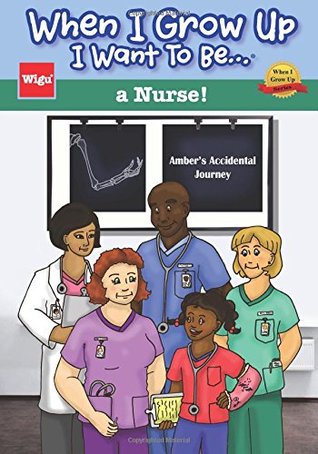 About the Book:
When Amber gets injured on the soccer field, she is forced to confront the fears shared by many children—fears of blood, hospitals, and abandonment. During her treatment, Amber encounters nurses who help her overcome her fears. By discovering the good work nurses do, Amber realizes that not only can she return to the soccer field, but she can also turn to the field of nursing when she grows up—something she never thought she could do!
About WIGU:
Wigu Publishing is a collaboration of talented and creative individuals working together to publish informative and fun books for our children. Our titles serve to introduce children to the people in their communities who serve others through their vocations. Wigu Books are unique in that they help our children to visualize the abundant opportunities that exist for them to be successful and to make a difference. Our goal is to inspire the great leaders and thinkers of tomorrow.
My Review:
Trying new things can be fun or down right terrifying, Amber soon finds that to be true when she is injured on the soccer field. She was already scared and now the fact that she gets hurt really didn't help how she felt about the sport. As a result of her injury she comes in contact with many nurses and hospital staff and as she listens to each of their stories she discovers that nursing sounds like an exciting career that she would like to become a part of when she grows up.
WIGU Publishing takes all sorts of careers and provides our children with books that they can understand and that help them research the career that interests them. They have thoroughly researched them and given plenty of research for those interested in pursuing all types of careers even nursing. I like these books because it provides the whole family with a way of learning more about nursing to decide if its right for them.
**Disclosure** This book was sent to me free of charge for my honest review from the publisher.