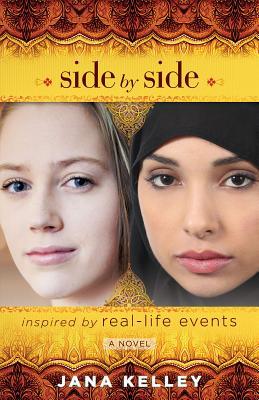 About the Book:
In the dusty, Islamic country of Sudan, Mia's life collides with that of another young woman. A young Christian American mother, Mia finds more than one dark secret on the streets of Khartoum. She finds Halimah, a young, upper-class Arab student with a bright future in her family's business whose risky and secretive decision has put her life in danger. What happens when the path of young mother intersects with that of a spunky Sudanese student? God transforms them both . . .forever.
Side by Side is based on real-life events. Part of New Hope Publishers' contemporary missional fiction line, Side by Side opens the reader's eyes to the life of Muslims in Sudan as well as some of the struggles that Christians face when living under Islamic law. The reader will be inspired to pray for those who are persecuted for their faith as well as pray for the salvation of those who persecute.
My Review:
Mia and her husband, Michael have always wanted to live over seas. And being from the US, they were very uncertain on how to go about it all. But when they feel that God has called them to Sudan, Africa, all questions are pushed to the backs of their minds. Preparing for their trip to Africa, is nothing compared to the life that the many Muslim woman have to deal with on a day to day basis.
Halimah, a young upper-class Arab student, days surrounded by wedding plans for her aunt's wedding. As she helps prepare for her aunt's special day, she finds it harder and harder to go about her everyday duties. Finding time to herself is most unlikely as the days progress. When she first meets Mia, she finds that this woman is unlike any other.
When Mia tries to share her faith with Halimah, she seems to hit a wall. Mia doesn't much of the Arabic language or how to go about sharing her faith. And when Halimah pulls away, Mia knows it is time to put her trust in the Lord, and pray for this young girl's soul.
Halimah soon finds herself secretly reading the New Testament, behind her parents back. With the possibility of death if they find out, she is uncertain what to do. Mia may be of more help than she previously thought.
Side By Side is an amazing book weaving a beautiful tale of God's love for everyone. This book was inspired by real life events that have happened in the authors life. Jana Kelley truly has a way with words.
**Disclosure** This book was sent to me free of charge for my honest review from Litfuse Publicity.