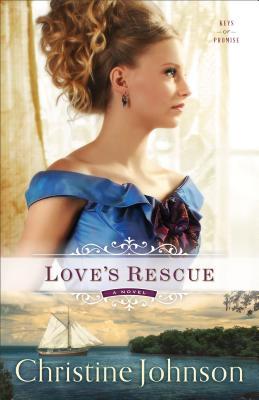 About the Book:
When her mother dies, Elizabeth Benjamin heads home to Key West, determined to transform herself into the perfect Southern belle her parents always wished her to be. But nothing goes according to plan. Her crippled brother resents her, the servants do not obey her, and Rourke O'Malley, the dashing man she vowed to forget, refuses to relinquish his hold on her heart. Worst of all, it becomes painfully obvious that her father is not the upright man he appears to be.

As family secrets come to light, Elizabeth is faced with a difficult choice: to do her duty and abandon her dreams, or to leave her life of privilege behind to chase the man her father sees as little better than a pirate.

From the first emotional page, author Christine Johnson throws readers into a world of impossible choices, hidden desires, and heart-melting romance in the steamy south. Readers will cheer for Elizabeth and Rourke as they battle the odds and the elements to secure their future.
My review:
After her mother died, Elizabeth Benjamin felt she could no long stay way from her only surviving family. With a small lie, she, her aunt, and her maid board a ship to Key West, home sweet home. As her aunt slowly freaks out every time the ship creaks, Elizabeth finds herself lost in memories both sad and happy. When the ship hits a reef, Elizabeth is unsure what will happen next.
Rourke O'Malley, a wrecker, finds himself racing to a sinking boat. Upon arriving at the boat, he learns that their are three passenger's in need of saving, one being the love he thought he lost forever. Pulling her and two other women from the wreckage, he finds that Elizabeth is no longer the same as she was when they were younger. She is both dainty and proper with a snake of an aunt always beside her. When he learns that she may be home for some time he believes he may finally have the chance to show her family just how amazing he can be.
But her father has secrets to hide and will do anything for Elizabeth to marry the man he wishes for her. As Rourke begins to pull away, she begins to believe that he doesn't feel the same as she does. She discovers there may be more behind the truth than what Rourke or her father, for that matter, will tell. Her choice lying between two very different lives, Elizabeth must decide whether to follow her heart or her father's decision.
Love's Rescue is an amazing book. I really enjoyed the author's writing. I can't wait for book 2 to come out!
**Disclosure** This book was sent to me free of charge for my honest review from Revell.