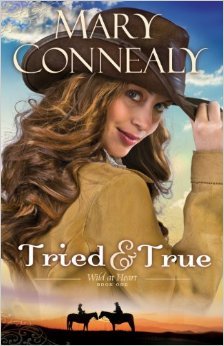 About the Book:
Kylie Wilde fought in the Civil War dressed as a boy---and now she's homesteading as a man! When somebody tries to burn her property, land agent Aaron Masterson inspects her claim---and realizes she's a woman. Will he keep her secret? And when the attacks continue, will she marry him just so she won't have to be alone anymore?
About the Author:
Mary Connealy
is an award winning, bestselling author known for her fun and lively historical romantic comedies. An author, teacher, and journalist, Mary lives on an
eastern Nebraska
ranch with her husband and enjoys spending time with her four daughters and two grandchildren. Learn more at www.maryconnealy.com.
My Review:
Kylie Wilde, the youngest of the Wilde sisters, hates living in the land of homesteaders. As if life itself isn't hard enough, people are trying to chase her off of her land. Aaron Masterson, a loyal land agent, rode out to Kylie's homestead only to find out that things and people there are not what they appear to be. Flapping shingles, flying arrows, and snakes send Kylie into hysterics, many, many times but Aaron is always by her side to rescue her. Soon Kylie starts to see Aaron in a different way, which isn't right considering the current circumstances. Aaron is completely head over heels for Kylie but he isn't sure she feels the same way.
This Mary Connealy's latest novel and is book one in the Wild At Heart series. As always she has delivered a winner! She does not disappoint, and is able to deliver beyond our wildest expectations! Definitely a page turner and full of Wild West action and overwhelming passion!
**Disclosure**This book was sent to me free of charge for my honest review from Litfuse Publicity.