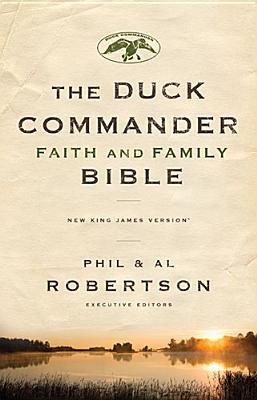 About the Book:
The stars of the hit TV show "Duck Dynasty" are committed to upholding five core values both on and off the screen: faith, family, fellowship, forgiveness, and freedom.

With new stories and testimonials told from the perspectives of Phil, the Robertson family patriarch, and his son Al, a pastor with more than 22 years of experience, "The Duck Commander Faith and Family Bible" offers fresh wisdom on these values, what the Bible says about them, and how everyday people can apply them to their lives.

With relentless dedication to sharing the gospel and expanding Christ's kingdom, the Robertson family has become a driving evangelical force of the twenty-first century. "The Duck Commander Faith and Family Bible" unleashes the power of their practical insight into critical faith issues, founded on God's holy Word.

Features include:
Full text of the New King James Version Bible A personal welcome note from Phil and Al Robertson 125 articles on the top 25 Bible search topics Life application and scripture references supplement each article 30 days of life-changing testimonials Topical index and reading plans. Part of the "Signature Series" line of Thomas Nelson Bibles.
My Review:
As everyone well knows unless of course you have been living under a rock for the past several years, the Robertson family has become a huge franchise. I for one love the family and all they stand for. It is truly an honor to review their products. We as a family enjoy their family immensely and my husband and I love the fact that we don't have to sensor their show. This Bible was a collaboration between Phil and Al and showcases their years of experience preaching the gospel. Included in the Bible are just a few of their life changing sermons to help give us an insight into their speaking of the Word and to help us further understand what we read therein.
This Bible has many different features such as the ABC's of salvation, 30 Days with Jesus, a section on Jesus' ministry complete with scripture references. I really enjoy learning more about this family and I am delighted that they have released a Bible to honor our King.
**Disclosure** This book was sent to me free of charge for my honest review from Book Look.