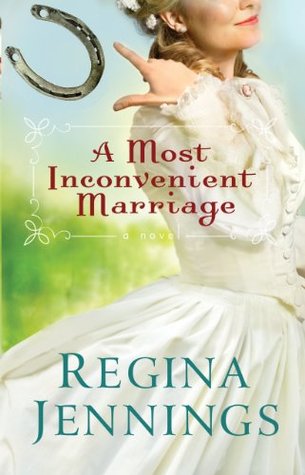 About the Book:
A Marriage of Convenience Turns Most Inconvenient in this Historical Charmer

Having fled a difficult home life, Civil War nurse Abigail Stuart feels like her only friend in the world is sweet but gravely wounded patient Jeremiah Calhoun. Fearing he won't survive, the Confederate soldier's last wish is that Abigail look after his sickly sister at home. Marry him, return to his horse farm, and it'll be hers.

Left with few choices, Abigail takes him up on his offer and moves to Missouri after his death, but just as the family learns to accept her, the real Jeremiah Calhoun appears--puzzled to find a confounding woman posing as his wife. Jeremiah is determined to have his life back to how it was before the war, but his own wounds limit what he can do on his own. Still not fully convinced Abigail isn't duping him, he's left with no choice but to let the woman stay and help--not admitting to himself she may provide the healing his entire family needs.
About the Author:
Regina Jennings is a graduate of Oklahoma Baptist University with a degree in English and a history minor. She has worked at The Mustang News and First Baptist Church of Mustang, along with time at the Oklahoma National Stockyards and various livestock shows. She now lives outside Oklahoma City with her ornery husband and four dangerously charming children.
Visit Regina's website at www.reginajennings.com.
My Review:
Abigail Stuart, a nurse agrees to marry a dying soldier by the name of Jeremiah Calhoun. He tells her of a horse farm, his sick sister, and his ailing mother. After his death she arrives at the exact farm, finding a rundown version of what he told her. Staying true to her word to take care of both his farm and his family, she sets to work, rebuilding the farm and having a family to call her own.
He arrived at his farm to find a pretty woman saying that she is his wife, but since he is Jeremiah Calhoun, and he has never laid eyes on her, he sets to work to uncover the truth. Having been injured in the Civil War, he isn't as able as he use to be, unwillingly he asked Abigail to help him with the very farm, that he is now trying to run her farm. These two must work together to find the truth behind the dying man's will and save the farm from going under. If they just work together, they may realize that they are a great team.
Regina Jennings, is a fantastic author. Her writing will draw you in and before long, you have finished the book. I really enjoyed her latest!
**Disclosure** This book was sent to me free of charge for my honest review from Bethany House.