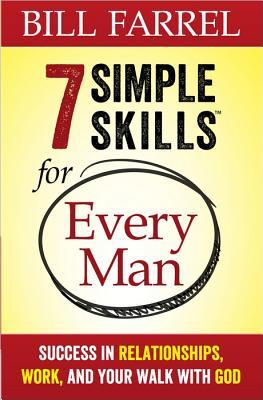 About the Book:
As a man, you were created to do--to pursue worthwhile goals, overcome obstacles, and have an enduring influence on your world. But these pursuits are often complicated, and the more complicated life becomes, the more you struggle to stay motivated.
The good news is that you can learn and practice seven simple skills that will enable you to stay on course. You can navigate even complex situations as you equip yourself to develop an interactive relationship with God focus on what's important handle the unique challenges of your current stage of life influence the people you care about become a skilled lover.

It is a great privilege and a powerful responsibility to be a man. With help from this book, you can become even more effective and experience greater success in your relationships, your work, and your walk with God.
About the Author:
Bill Farrel has been influencing lives for over 25 years as a senior pastor, youth pastor, radio talk show host, community leader, and sought-after conference speaker. Bill is also the author of The 10 Best Decisions a Man Can Make, and he and his wife, Pam, have written more than 30 books, including Men Are Like Waffles--Women Are Like Spaghetti and Red-Hot Monogamy. They have been married more than 30 years and have raised three young men who love Jesus and athletics.
My Review:
I know for myself after being married to the same man for ever 20 years, they feel like the world rests on their shoulders. They are usually easily overwhelmed with all the responsibility that they have in their lives. So Bill Farrel breaks it down into 7 simple skills to address all of this and he claims if they follow these 7 simple skills, they can stay the course so much better.
A few of the skills outlined are Focus Your Passions, Pray Like A Man, Pursue a Plan each one are perfectly outlined and have a chapter devoted to each. With sound scripture to back every point that the author discusses, I am sure each of these would ring a bell with every male reader.
Every man is to be the leader in his home, this is something God ordained in each of their lives. If you do God's will and follow the Word, you will in no doubt be on the road to a better life and a better you.
**Disclosure** This book was sent to me free of charge for my honest review from Harvest House.