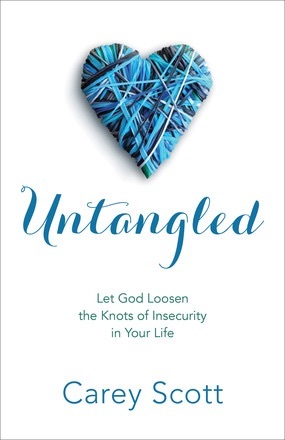 About the Book:
All women want to feel is valued. But problems arise when we seek confirmation that we are "enough "using the world's standards. Almost from birth, we are trained to find the approval and acceptance we crave in the eyes of family, friends, and even strangers. The result is that we cannot believe we are who God says we are--accepted, loved, beautiful, and treasured. We get tangled up in the world's assessment and our own self-judgment.
With hope-filled writing and plenty of hard-won personal advice, Carey Scott shows women how to untangle their self-esteem from the world and anchor it in Jesus. She lovingly shows readers that God was intentional in how he made them and that he is well pleased with his work. Women will learn practical strategies to escape unattainable standards and the performance-based measuring stick of the world, and find comfort in the fact that they are not alone on the journey.
My Review:
According to the author we will have many tangles in this life and it is up to us to let God have free reign over them all. A lot of times this is no easy feat, us letting God untangle our hurts and problems. The author addresses many of these tangles throughout her book and she draws from her own lessons in life to shed some light on ours and lead us to a place to reach ultimate freedom. We ourselves will never be able to fix our issues no matter what they are, it is only under God's receiving of them that we find true peace.
The author addresses from her own childhood to her married life and beyond. She hasn't always been perfect and she reassures you that you don't have to be either. We can come to God with the freedom knowing that through His different processes He will take care of our needs in all areas of our lives. I don't know about you but that is very comforting to me.
**Disclosure** This book was sent to me free of charge for my honest review from Revell.