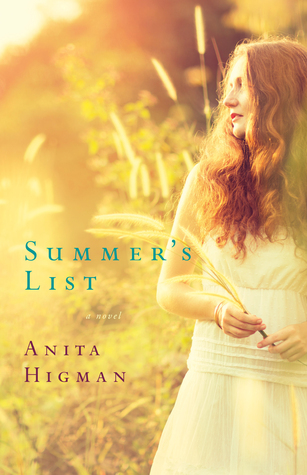 About the Book:
A dying wish alters the course of a young woman's life.

Life hadn't been easy for Summer Snow. In acts of selflessness-caring for her ailing parents and running her grandmother's bookstore-she had forfeited her youth and dreams for the needs of others. And the only tries she had at love... didn't turn out. She had the bookstore, she had her beloved granny, but she was missing something-or someone.

Opportunity strikes when Granny sends Summer on an unexpected adventure with one Martin Langtree, a kind but gangly young man from Summer's past. A childhood friendship is rekindled, a romance is sparked, and mysteries are solved in one magical Texas summer. Will Summer strike out on love again, or will things finally go her way?

With lovable characters and surprising twists, Summer's List is a simple delight.
My Review
After her parents were injured in a car wreck, Summer Snow devoted her life to taking care of them. Now she learns that her grandmother isn't as well as she seems to be. But with only six months to live, Summer's grandma still has a few things up her sleeves.
Armed with a list from her grandmother, Summer sets out on an adventure. First to find out what ever happened to her childhood friend, Martin Langtree. Arriving at his last known address, she learns that Martin is quiet genius, secluded in the back yard guest house. Seeing after all these years, she learns that something's never change. With Martin's cute Chihuahua by their side, it's sure to be an amazing adventure.
Summer's List is an amazing story about beautiful friendship, romance in the works, and a just plain fun adventure. Anita Higman has written many books and this book doesn't lack in the least. I enjoyed the characters' attitudes and personalities. I look forward to reading many more of her wonderful books.
**Disclosure** This book was sent to me free of charge for my honest review from Litfuse Publicity.