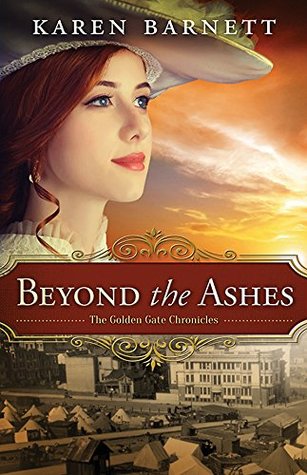 About the Book:
Where better to rebuild and face one s fears than in 1906 San Francisco, a city rising from the ashes? Ruby Marshall, a young widow, is certain she ll discover new purpose assisting her brother Robert with his cancer research, but she doesn t anticipate finding new love. Dr. Gerald Larkspur dreams of filling his empty home with family, but he d always hoped it would be a wife and children. In the aftermath of the great earthquake, the rooms are overflowing with extended family and friends left homeless by the disaster. When Robert s widowed sister arrives, the close quarters seem close indeed. Ruby and Gerald s fledgling romance is put at risk when Gerald develops symptoms of the very disease they re striving to cure. Together they must ask is it worth a second chance at love when time might be short?"
My Review:
Ruby Marshall never thought in a million years, she would be a widow. Nor did she expect her kid brother, Robert King, to be engaged to a beautiful. girl. But apparently, now is the time things unexpected to happen. San Francisco was such a beautiful place, before the earthquake, now it is just dust and rubble. With everyone one with out a home, where are they to go? Ruby learns that Dr. Gerald Larkspur, Robert's partner-in-crime, is so much more than just a handsome face. His home became the haven for the now homeless city folk. With his charming good-looks and his generous heart of gold, what about him isn't intriguing?
Gerald Larkspur became a doctor to help people. To give people a second chance at life, since all cancer has been doing is stilling it away. Yes, the x-ray's that Robert is so fond of are helping with certain things, like pain and minor skin problems. But what about the cancer itself? Gerald's dear cousin Abby lost her sister to the disease, even after all the research put into finding a cure. Why wont it just go away? But despite all the negativity that surrounds him, one question stay's in his mind. When will he find the wife he has always wanted? Soon the question is over shadowed, when he begins to show signs of have the cancer. The one thing he wishes to make disappear.
Beyond The Ashes is book two in The Golden Gate Chronicles. This book didn't lack a bit, when compared to book one. I enjoyed how well the author, Karen Barnett, incorporated the history of x-rays and the medical problems the doctors in the 1900s had to face. I can't wait to read book three!
**Disclosure** This book was sent to me free of charge for my honest review from Litfuse Publicity.