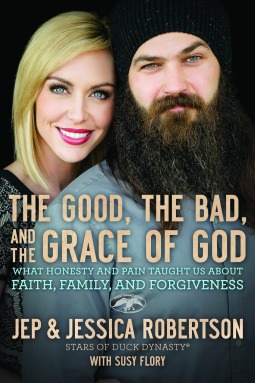 About the Book:
A Moving Story of Redemption and Second Chances
Jep Robertson, the youngest son of Duck Commander Phil Robertson, and his wife, Jessica, open up about their personal trials, their early years together, and the challenges that might have destroyed them both had the grace of God not intervened. Jep describes being molested as a child and his reluctance to tell anyone until only a few years ago, his downward spiral into drug and alcohol abuse, and the eventual intervention of his family. Jessica shares about the difficult failure of her first marriage while still a teenager and the hurt that came along with it, much of it from the church. Her insecurities spun out of control as she wondered whether she would ever be good enough or pretty enough. This book is their love story but, more importantly, their love story for God.
"We are desperate to let people know that no matter what you've done; no matter what you've lived through, you can come out of it. You can be washed clean. You are redeemed."
My Review:
We enjoy watching Duck Dynasty. It is a show that has many of the same morals as a family that my family share. It isn't surprising how drawn we are to that family and why we enjoy the show so much. But like with any family there are some things you just don't know. We tell our kids all the time that just because you see a good well rounded family on the outside doesn't mean it is so. What goes on under a family's roof could be completely different than what you see, and unfortunately that is true a lot of the time.
Jep and Jessica Robertson are no different they each came to their marriage with emotional, heavy weight baggage. And like many of us that have went before them, they had to figure out a way to work it out or they would implode, first their marriage, then their family, and finally themselves. For anyone to say that marriage is easy, would cause me to question their motives. Marriage is probably the hardest job I have ever had. It takes guts and perseverance beyond what the human body can muster. I know in marriage if God is NOT at the base, "it ain't workin' "! These two finally learned that and it makes my heart glad to know it.
Their story is a touching one that takes us down they dark path they felt was never ending into a redeemed path of love and grace that far reached and brought them out of it. It brought them into a place of safety, the place of the loving arms of their Father. If we reached high enough He will restore us to something beyond our own comprehension. That is how He rolls and for all us I know I am very grateful for that!
**Disclosure** This book was sent to me free of charge for my honest review from Book Look.