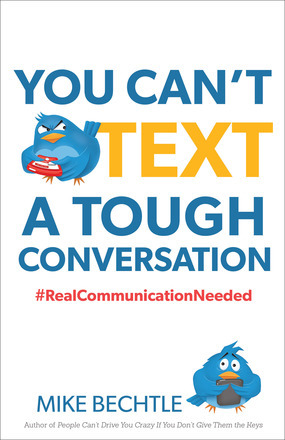 About the Book:
When it comes to the tough stuff, we need real, face-to-face conversations. But have we lost the art?
There's no denying that as our use of technology has increased, our communication skills have decreased. Technology creates the illusion of being in touch, but we lose the deeper meaning conveyed by body language, facial expression, and tone of voice. We text when we should talk. We tweet firings and breakups. We vent our frustrations with other people online. Whether it's with a spouse, a friend, a boss, a co-worker, or children, those tough conversations create high anxiety. In the end, what we have are broken relationships and hurt feelings.
In this timely book, communication expert Mike Bechtle shows you how to build strong relationships, offering tried-and-true methods to navigate the muddy waters of having tough conversations—in person. With his help, you'll learn to be a better listener, give and receive genuine feedback, saturate your relationships with kindness, and much more—so that you'll feel confident when it comes time to actually talk.
My Review:
It is sad to say but in today's world people have completely forgot how to communicate. So we have to have books such as these to teach us how to communicate again. Me, I prefer face to face conversation because for some reason during phone conversations I freeze up and don't know what to say. The author shares way to improve your face to face conversations as well teaching us how to go about it in the first place.

The author also addresses dealing with difficult conversations and conflict quickly. I have found that to be a better way in my life, as well. Calling or texting is almost always not appropriate. Today's world has evolved into a regression that would date back to before the advancement of technology, reminiscent of the pioneer days in a way. You could could literally go months before seeing or talking to friends or family. It seems we are headed that way again.

**Disclosure** This book was sent to me free of charge for my honest review from Revell.