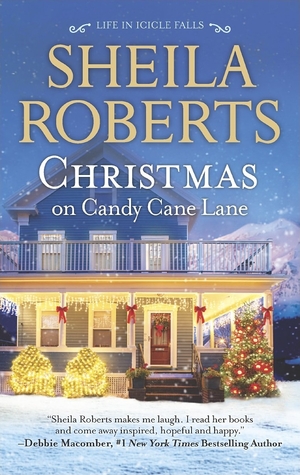 About the Book:
Icicle Falls is the place to be at Christmas…
Everyone's getting ready for Christmas in Icicle Falls, especially on Candy Cane Lane, where holiday decorating is taken very seriously. Tilda Morrison, town cop, is looking forward to celebrating Christmas in her first house… until she discovers that she's expected to "keep up" with the neighbors, including Maddy Donaldson, the inspiration behind the whole extravaganza. But this year, someone's destroying Maddie's precious candy canes! Thank goodness for the cop in their neighborhood.
Tilda already has her hands full trying to sort out her love life and fix up her fixer-upper. Oh, and won't it be fun to have the family over for Christmas dinner? Not really… Then there's her neighbor, Ivy Bohn. As a newly single mom, Ivy can sum up the holiday in two words: Bah, humbug. But she's determined to give her kids a perfect Christmas.
Despite family disasters, irritating ex-husbands and kitchen catastrophes, these three women are going to find out that Christmas really is the most wonderful time of the year!
My Review:
Tilda Morrison thought it was a wonderful idea to move to Candy Cane Lane, but as soon as the holiday season hit the neighborhood, she began having second thoughts. Could having a house with a beautiful view really be worth getting bugged over and over about Christmas decorations? Tilda isn't the person to irritate over such petty things. She is just fine with everything being hum-drum and boring.

Maddy Donaldson was the one with the idea to change the street name to Candy Cane Lane and of course all the other women backed her up all the way. Some of the men of the neighborhood don't believe it was the best idea, after all they are the ones having to stand out in the cold decorating. But she never thought anyone would go far enough to start destroying her candy canes. Who in the world would do such a thing? With Christmas almost here, Maddy has other things to worry about like her mother-in-law coming to town.

Ivy Bohn is a new single mom and she despises her ex-husband. But although their feelings are mutual, she can help but wish things were different. Ivy knows there is one thing to do, get into the Christmas spirit and celebrate Christmas with her two kids. Her kids deserve a perfect Christmas, even if it kills her.

Christmas on Candy Cane Lane is a beautiful Christmas novel. I loved how funny each woman was. They each had something going horribly wrong from time to time which kept everyone on their toes. I really enjoyed this book and since it is so close to Christmas, it's a wonderful time to get in the holiday spirit.

**Disclosure** This book was sent to me free of charge for my honest review from the author.