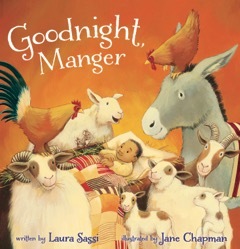 About the Book:
Goodnight, Manger, written by Laura Sassi and illustrated by New York Times bestselling artist Jane Chapman, tells the story of Mary and Joseph as they try to lull Jesus to sleep in the noisy stable after his birth. It's bedtime for Baby Jesus, but who knew a manger could be so loud? Mama, Papa, and all of the animals try to lull the baby to sleep, but between itchy hay, angels' joyful hosanas, and three kings bearing noisy gifts, it's just too loud. Until Mama finds a way for everyone to work together to shepherd Baby into peaceful dreams under the twinkling stars.
My Review:
Who knew barns were so busy? Was this what Mary thought all those years ago in that stable with Joseph and baby Jesus? Goodnight Manger is a precious picture book perfect for little ones. I think bedtime would be the best time for a read aloud from the book considering it is centered around sleeping.

Set about with beautiful illustrations and dramatic prose that send the new parents reeling because they don't want there baby awake due to all the activity from His birth. It was a sweet, soft, just precious book about Jesus' birth story.

**Disclosure** This book was sent to me free of charge for my honest review from the author.