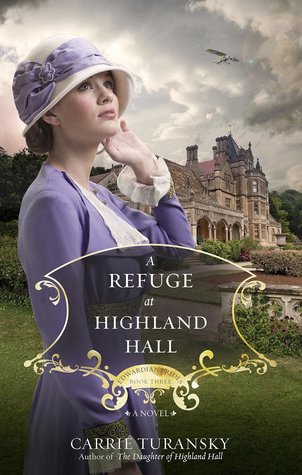 About the Book:
In this third and final book in the Edwardian Brides Series, you'll be swept away to England and France in 1915 as the Ramsey family and their staff and friends face the dramatic challenges and losses of World War One, yet they also experience the hope and triumph that comes as they put their trust in God to carry them through. Penny Ramsey helps the family welcome a group of orphaned children to Highland Hall, but she soon discovers caring for them is more difficult than she'd expected. She writes to Alex Goodwin, a daring British pilot, who chases German zeppelins across the sky over the Front Line in France, and longs for the day she will see him again. You'll be delighted by two pure and heartwarming romances: Penny and Alex, and Lydia Chambers and Marius Ritter, a lady's maid and a prisoner of war. But most of all I hope you'll be inspired by the characters' examples of trusting God through the trials they face.
Fans of "Downton Abbey" will find many of the same elements in this series: A wealthy, aristocratic family living on a large English country estate with romance, conflicts, and family drama; and loyal servants with troubles and heartaches of their own.
My Review:
Penny Ramsey left her Highland Hall home for London when Britain became involved in World War I. Now she helps her dear sister, Kate with eight orphaned children, that Kate and her husband took in. And with Kate pregnant with her first child, she definitely is going to need a lot of help. One day Kate's husband arrives just in time for tea, but he brings an old friend along. And let's just say he's quite a looker.

Alex Goodwin finds Penny Ramsey intriguing and beautiful. He wishes to learn about everything that makes her, well her. But with the war going on and a dangerous assignment in his future, he really shouldn't get involved with a girl, especially Penny. But with his dreams flying high, he and Penny begin writing one another, causing there friendship to soar. But all to soon everything they come to love is disrupted, and the brokenness may just become to much to bear.

A Refuge at Highland Hall is book three in the Edwardian Brides series. This book matched up to the history of the first World War perfectly. I loved every aspect of this book, and I can't wait to read more in this series.

**Disclosure** This book was sent to me free of charge for my honest review from the author.