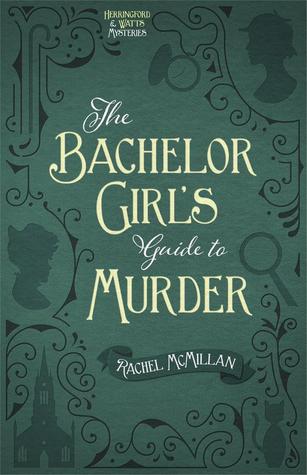 About the Book:
In 1910 Toronto, while other bachelor girls perfect their domestic skills and find husbands, two friends perfect their sleuthing skills and find a murderer.

Inspired by their fascination with all things Sherlock Holmes, best friends and flatmates Merinda and Jem launch a consulting detective business. The deaths of young Irish women lead Merinda and Jem deeper into the mire of the city's underbelly, where the high hopes of those dreaming to make a new life in Canada are met with prejudice and squalor.

While searching for answers, donning disguises, and sneaking around where no proper ladies would ever go, they pair with Jasper Forth, a police constable, and Ray DeLuca, a reporter in whom Jem takes a more than professional interest. Merinda could well be Toronto's premiere consulting detective, and Jem may just find a way to put her bachelor girlhood behind her forever--if they can stay alive long enough to do so.
My Review:
Most girls at the age of 24 are busy looking for a husband or are already married with kids. But not Jem Watts, no, she is busy running after her wacky friend solving mysteries. Her parents don't agree but of course they never have. But even so, she truly does enjoy helping her dear friend, Merinda Harrington.
Merinda Harrington loves a good mystery every now and again. So when a murder happens at the local theater, Merinda and Jem race to the seen. And with the help of the police constable, they suspect the murder could be none other than the theater's owner. But when he denies and another murder happens, who could possibly be doing this?
Jem meets the handsome Ray Deluca, who seems to have many secrets, none of which he cares to share. Could his secrets lead them to the murderer our is there more to the story than meets the eye?
The Bachelor Girl's Guide To Murder is book one in the Harrington and Watts Mystery series. The amazing book reminded me a great deal of Sherlock Holmes and John Watson. Which of course I love. I really really enjoyed reading this book, everyone loves a good mystery. I can't wait to read the next book in this series, A Lesson in Love and Murder.
**Disclosure** This book was sent to me free of charge for my honest review from the author.