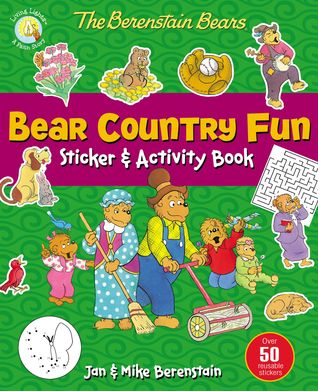 About the Book:
The Berenstain Bears come to life in The Berenstain Bears Bear Country Fun Sticker and Activity Book that fans are sure to love! Join the whole Bear family in creative and interactive fun with 32 pages of age-appropriate activities such as word finds, mazes, puzzles, coloring pages, and colorful reusable stickers that are sure to please. Features Mama, Papa, Brother, Sister, Honey, and their friends from Bear Country.
My Review:
If you are a Berenstain Bears fan you can understand my children's excitement at this awesome product. The Berenstain Bears are our absolute favorite and now they have released a sticker & activity book that is perfect for those downtown errands. Especially when you need a little something to keep the kiddos occupied why you are out and about during daily tasks, bill paying, or even sitting in the waiting area for a dentist appointment.
I like to have other things for my children to do other than video games and this fits the bill just fine. Among the bear themed book you child can partake in mazes, counting activities, hidden picture activities, and much, much more. My kiddos are excited about the beautiful illustrations and the reusable stickers. Great book to have around!
**Disclosure** This book was sent to me free of charge for my honest review from the author.