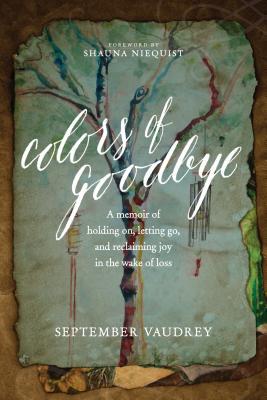 About the Book:
What happens "after" the worst happens?
Before May 31, 2008, September Vaudrey's life was beautiful. But on that day, with one phone call from the ER, her whole world--everything she knew and believed--was shaken to the core. Katie, her 19-year-old artist daughter, had been in a car accident and would not survive. How does a family live in the wake of devastating tragedy? When darkness colors every moment, is it possible to find light? Can God still be good, even after goodbye?

With the depth of C. S. Lewis's "A Grief Observed" and the poignancy of Joan Didion's "The Year of Magical Thinking," "Colors of Goodbye" offers a moving glimpse into a mother's heart. Combining literary narrative and raw reflection, September Vaudrey walks through one of life's worst losses--the death of a child--and slowly becomes open to watching for the unexpected ways God carries her through it. It's a story of love and tragedy in tandem; a deeply personal memoir from a life forever changed by one empty place. And at its core, "Colors of Goodbye" calls to the deepest part of our spirits to know that "death is not the end . . ." and that life can be beautiful still.
My Review:
Talking about a painful book, this book Colors of Goodbye is a book that takes a family on a journey that I'm sure had it been their choice they would NOT of wanted to go through. Losing their beloved Katie to a car accident was a devastation all it's own but the aftermath it left behind was miraculously and blindly sad. It was so incredibly terrible and you could feel it in the words that the author wrote. A very touching glimpse into a life that was cut short and the loved ones that were left behind as a result of Katie losing her life so did so many others.
It is true what they say until you have been there, you do NOT know the pain of losing a child or even a loved one that was literally part of your soul. Grieving has no time table. Love leaves us memories but sometimes those memories are such a burden to bear. This family comes out of the other side in tact but fractured and they show us how to do it with grace.
**Disclosure** This book was sent to me free of charge for my honest review from the author.