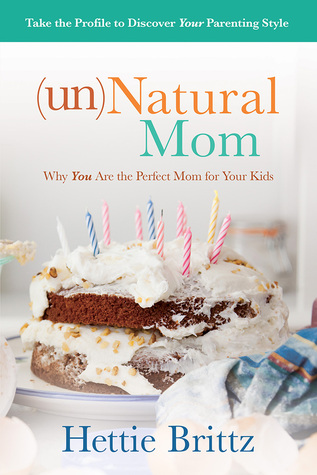 About the Book:
Do you feel like you're the only mom who serves store-bought birthday treats, dreads school plays, and misses the days of going to the bathroom by herself?
unNatural Mom
gives you permission to say that mothering doesn't always come naturally to you. Parenting expert and self-proclaimed unnatural mom Hettie Brittz helps you…
Recognize how unrealistic our culture's standards of mothering are Move beyond the myths of "supermom". Complete the
Parenting Style Assessment
to determine your own parenting style Understand and forgive the mothers who hurt you. Embrace your capabilities as well as your challenges. Come find new hope in discovering that every mother has unique gifts. In Christ, the "unnatural" mom becomes the supernatural mom who is just right for her family!
My Review:
There is a saying that says, God created you to be the perfect mom for your children. To our family there is no replacing us or the things we do for them. Some of us moms are the everything from scratch type and some of us are the everything is store bought type. Which ever you turn out to be doesn't really matter as long as we love our families with everything and do our best to show them that love each day.
The
Parenting Style Assessment
was an eye opener for this always trying to have it together for my family. I am always going and doing and rushing. One big thing that crushes me is when I think that I can't fulfill something that I think that they wanted from me. But Jesus doesn't want us to struve to be the best according to this world. He wants us to do better based on Him and what He qualifies as good.
The author shows us how to achieve "amazing mom" status and it's actually easier than you may think.
**Disclosure** This book was sent to me free of charge for my honest review from the author.