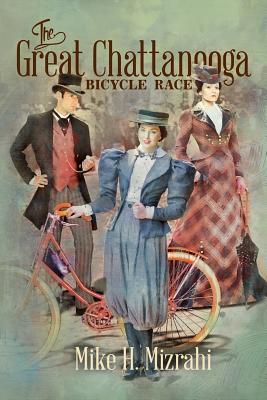 About the Book:
Chattanooga society is turned upside down as a young woman has the audacity to ride a bicycle--in bloomers!

It's 1895. Anna Gaines, 19, struggles to conquer her insecurities after a horrible fall years ago from her beloved horse, Longstreet. On a visit with her aunt in Brooklyn, she's drawn to the new pastime of bicycling. But back at home, cycling is a scandalous sport for a proper lady. Southern women did not engage in activities meant for men.

Anna has her eye on Peter Sawyer, president of the Cycling Club. As community outrage grows, an unexpected turn of events pits Anna against Peter in a race between the sexes.


Will Anna prove that women deserve the same right as men to ride "the wheel?" Will she choose to live a quiet, traditional life of a housewife and mother? Or will she pursue college and become one of the "new women" emerging into the twentieth century on the seat of a bicycle? What will become of the spark between Anna and Peter? Faith, patience, and courage help Anna to become the person she was meant to be.
My Review:
During the late 1800's riding bicycles and the fascination with this past time was a growing trend. Many people found it not only a great way to stay in shape but lots and lots of fun. It could turn a boring Saturday into a family fun adventure for the whole family to partake in. I was excited to see something like this in a book because it is very rare. I don't think I have ever seen a book on the subject let alone a whole story line based around this. This story was a great one and will not leave you disappointed. Now on to the story.
Anna loved riding horses. She had suffered a fall from her horse. And while most say well you just have to face your fear and get back on that horse, Anna was more than a bit reluctant to go there again. After a visit to Brooklyn to visit her aunt, she discovered bicycling and fell in love with it. There was only one problem this wasn't a sport for women so she faced lots of opposition. But she wasn't one to give up so easily. So this story was going to prove to be a challenging one from the start.
And you know that all good works of fiction have to not only have the drama behind them but also a little bit of romance and that is where the character of Peter is introduced to this whole story line. soon Anna will have to face a member of the opposite sex to prove that women are just as good as men at this. Anna is taking one for the team, y'all! And she is fantastic at it!
I loved this story! It was full of wonder as well as your typical romance and drama. Great story!
**Disclosure** This book was sent to me free of charge for my honest review from the author. All opinions are my own.