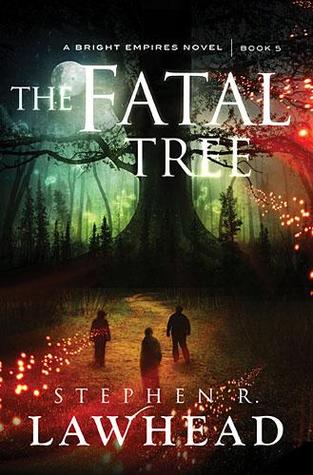 About the Book:
What do you do when you're faced with The End of Everything?

The evidence is compelling--not only is The End of Everything approaching, it's approaching rapidly. Desperation sends the Questors to the four corners of the universe in search of answers.

Tony and Gianni are in Rome gathering additional data on the collapse of the universe, and Haven and Giles are captured by Huns and taken to Byzantium.

Mina travels to Egypt to recruit Dr. Thomas Young, "the last man in the world who knows everything." But when he accompanies Mina, Kit, and Cass to the ley guarded by the giant tree, he manages to activate the ley and he and Mina disappear.

Before disappearing, Dr. Young dubbed the giant Yew the Fatal Tree--but what fate is it leading these Questors toward?
About the Author:
Stephen R. Lawhead
is an internationally acclaimed author of mythic history and imaginative fiction. He is the author of such epics as The King Raven, Song of Albion, and Dragon King Trilogies
.
Lawhead makes his home in Oxford, England, with his wife. Twitter: @StephenLawhead Facebook: StephenRLawhead
My Review:
Kit and Cass are trying their best to find a way home. Heading to the portal, they find that a huge tree has grown over it, but much to their dismay they find that its a special type of tree. It's a tree that causes pain, suffering, and ultimately death to anyone who touches it. How are the two of them going to survive, if they aren't allowed to touch it?
Burleigh was sentenced to the underground dungeon, after beating the local baker. He had his reasons apparently, but now the man that he caused so much pain to, brings him food daily. The bakers' reasoning is that Jesus would do the same. Oh boy! Burleigh has some learning to do.
Mina wakens not to a warm bed but to an icy wonderland. But it isn't so wonderful when she is in the middle of nowhere with an angry cave lion ready to devour her. Tony and Gianni, are trying to explain the unexplainable cosmic events. But little do they all know, someone is playing with the strings of time, causing the oddest things to happen. Can they get home before its too late?
Stephen R. Lawhead has done it again with the final volume in the Bright Empire Series. Thanks to his amazing conclusion you don't want to miss this addition to the series. If you would like to learn more, you can at this
link.
**Disclosure** This book was sent to me free of charge for my honest review from CSFF and the author.
; Julie Bihn
; Thomas Clayton Booher
; Beckie Burnham
; Jeff Chapman
; Karri Compton
; April Erwin
; Victor Gentile
; Jason Joyner
; Janeen Ippolito
; Carol Keen
; Emileigh Latham
; Rebekah Loper
; Shannon McDermott
; Meagan @ Blooming with Books
Rebecca LuElla Miller
; Nissa
; Jalynn Patterson
; Writer Rani
; Nathan Reimer
; Audrey Sauble
; Jojo Sutis
; Rachel Starr Thomson
; Robert Treskillard
; Steve Trower
; Shane Werlinger
; Phyllis Wheeler