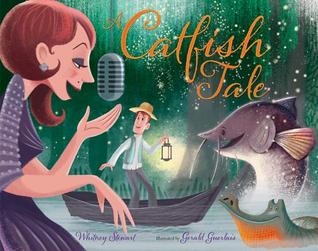 About the Book:
Deep in the bayou, a Cajun fisherman named Jack catches a magic fish that offers to grant wishes in exchange for being set free. Jack doesn't have a lot of wishes, but his wife Jolie sure does--for a mansion, a paddleboat, fame and fortune! With each wish, all the fish says is "Ah, tooloulou--if that ain't the easiest thing to do." But when Jolie wants to be crowned Mardi Gras queen, have things gone too far?
About the Author:
Whitney Stewart is the author of many books for children including Who Was Walt Disney? and Marshall: A Nantucket Sea Rescue. She lives in New Orleans, Louisiana, with her husband and son.
My Review:
Deep, deep in the swamps of the Louisiana bayou lives a magic catfish that is all for granting you wishes. A Catfish Tale, is a story about Jack and Jolie a sweet couple that lived on the bayou. They did have a somewhat hard existence living there so when a magic catfish appeared they were all for getting their wishes granted especially Jolie. She sent Jack back to ask for many of her wishes, but in the end her final wish did not have to be granted only because it had already come true.
This is such a sweet children's story that is sure to warm your heart. Written with the 4-7 age range in mind, this sweet story will warm your heart as well as the heart of your child. Especially when they realize that all they need is closer than they could possibly imagine.
**Disclosure** This book was sent to me free of charge for my honest review from the author.