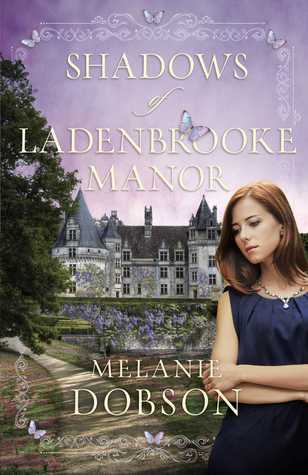 About the Book:
When Heather Toulson returns to her parents cottage in the English countryside, she uncovers long-hidden secrets about her family history and stumbles onto the truth about a sixty-year-old murder. Libby, a free spirit who can't be tamed by her parents, finds solace with her neighbor Oliver, the son of Lord Croft of Ladenbrooke Manor. Libby finds herself pregnant and alone when her father kicks her out and Oliver mysteriously drowns in a nearby river. Though theories spread across the English countryside, no one is ever held responsible for Oliver's death.Sixty years later, Heather Toulson, returning to her family's cottage in the shadows of Ladenbrooke Manor, is filled with mixed emotions. She's mourning her father's passing but can't let go of the anger and resentment over their strained relationship.
Adding to her confusion, Heather has an uneasy reunion with her first love, all while sorting through her family's belongings left behind in the cottage. As Heather digs, she finds a mysterious journal that belonged to a woman she never knew and it contains clues that lead to the truth about a mysterious drowning decades ago. What she uncovers will change everything she thought she knew about her family's history. Award-winning author Melanie Dobson seamlessly weaves the past and present together, fluidly unraveling the decades-old mystery and reveals how the characters are connected in shocking ways. Set in a charming world of thatched cottages, lush gardens, and lovely summer evenings, this romantic and historical mystery brings to light the secrets and heartaches that have divided a family for generations.
My Review:
Maggie made a mistake and she had to make sure her unborn child didn't pay for it. Marrying a man she didn't love, she believed her prayers have been answered. Or at least she thought that until her first love and the father of her child returns, causing a whole new set of problems.
No one has ever understood Libby, no one has ever seen the butterflies like she did. No one except, Oliver, the neighbor's handsome son next door. But after one night together, he seems to be gone for good. She finds herself full of question and upset that he is yet to return. When her parents discover she is pregnant with Oliver's child, they must decide what to do in order to hide another generation's curse. When the child is born, Libby is still too worried about the butterflies and Oliver's return. Never did she expect to find him floating in the river.
Heather returns to her childhood home after her parents deaths, in order to go through their belongings. The plan to go through and leave, is halted when she finds something belonging to her dead sister. Heather confides in a family friend who tells her few secrets that may change her life forever. But that isn't her only problem, her ex-fiancé/ex-boyfriend has returned. Heather must decide what matters most to her and what secrets are best to stay hidden.
Shadows of Ladenbrooke Manor was an amazing book. I had the whole thing read in a matter of hours. Melanie Dobson sure knows how to write. She did an awesome job with this book! I can't wait to see what she writes next!
**Disclosure** This book was sent to me free of charge for my honest review from Litfuse.