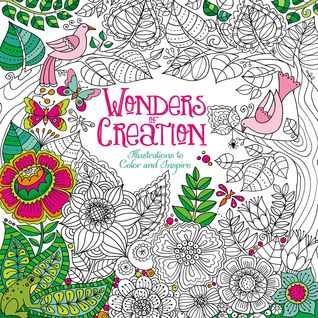 About the Book:
Wonders of Creation explores the wonders of our created world though detailed black-and-white illustrations—each one ready to be filled with the hues of your imagination. From amazing Eden-esque gardens to the creatures God made that still ramble through our world, this ninety-six-page book offers hours of coloring inspiration and relaxation for any age.
My Review:
Adult coloring books are all the rage right now. And they are a delightful way to spend an afternoon. But really as long as you are around the ages of 8 and up you can join in on this favorite long lasting pastime. These pictures are like works of art so you really do want to do your absolute best while you lend your imagination to each picture.
The Wonders of Creation: Illustrations to Inspire collection is absolutely breathe taking and gorgeous especially when color is added. The pages of this book is filled to the brim with wonders from God's creation. whether its animals or landscape scenes. Very beautiful especially if markers or color pencils are used.
**Disclosure** This book was sent to me free of charge for my honest review from the author.