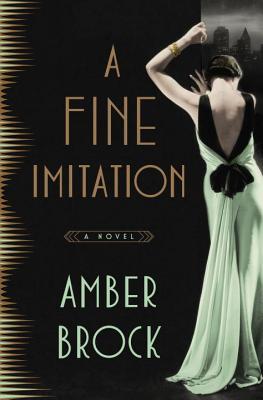 About the Book:
Set in the glamorous 1920s, A Fine Imitation is an intoxicating debut that sweeps readers into a privileged Manhattan socialite's restless life and the affair with a mysterious painter that upends her world, flashing back to her years at Vassar and the friendship that brought her to the brink of ruin.

Vera Bellington has beauty, pedigree, and a penthouse at The Angelus—the most coveted address on Park Avenue. But behind the sparkling social whirl, Vera is living a life of quiet desperation. Her days are an unbroken loop of empty, champagne-soaked socializing, while her nights are silent and cold, spent waiting alone in her cavernous apartment for a husband who seldom comes home.

Then Emil Hallan arrives at The Angelus to paint a mural above its glittering subterranean pool. The handsome French artist moves into the building, shrouds his work in secrecy, and piques Vera's curiosity, especially when the painter keeps dodging questions about his past. Is he the man he claims to be? Even as she finds herself increasingly drawn to Hallan's warmth and passion, Vera can't suppress her suspicions. After all, she has plenty of secrets, too—and some of them involve art forgers like her bold, artistically talented former friend, Bea, who years ago, at Vassar, brought Vera to the brink of catastrophe and social exile.

When the dangerous mysteries of Emil's past are revealed, Vera faces an impossible choice—whether to cling to her familiar world of privilege and propriety or to risk her future with the enigmatic man who has taken her heart. A Fine Imitation explores what happens when we realize that the life we've always led is not the life we want to have.
My Review:
Vera Bellington has it all the money, the jewelry, the fancy house. But yet she feels like she is missing something. Sure she is married to a rich man and she has even come from money, but still she feels her life is not complete. She throws herself into bringing an artist to their apartment building to paint a mural on the pool wall. When she meets him something inside her stirs, bring her past back to the forefront of her mind.
Emil Hallan is cool and collected, yet being around Vera brings out feelings he has never had with someone. And yes, the same can be said about Vera. Her life is completely thrown out of balance the minute she meets him. Although she knows she shouldn't, she wants to know more about him. This man definitely has something to hide, but is it bad enough for even Vera to turn away.
As her relationship with Emil becomes stronger, Vera discovers her past is basically coming back to haunt her, but is it because of him? She is left with two choices: stay in her privileged world or escape into the unknown with a man who may very well hurt her.
A Fine Imitation is wonderful novel. I really loved reading this book. With this being this author's first book, I was quite surprised to find it to be a wonderful read. I hope to read many more books from this author!
**This book had some foul language and a sensual bedroom scene.**
**Disclosure** This book was sent to me free of charge for my honest review from the author.