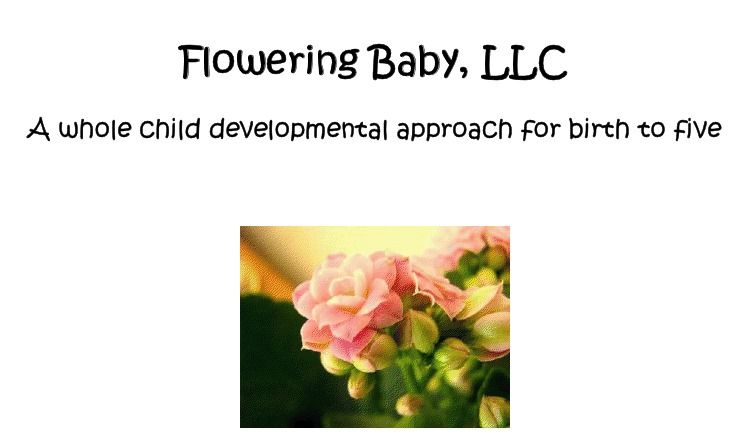 About the Product:
This program was created by the authors in hopes that it would help teachers, parents & caregivers come up with simple, inexpensive ways to interact with children. By using some of the activities in this curriculum you can give your children or any you care for well rounded learning that will last them for years to come. The curriculum is designed for ages birth-age 5. It is categorized in ages by years and then broken down into smaller groups by months so you can be sure to be right on target with the child or children you are trying to teach.
About the Authors:
Martha is a stay at home and homeschooling mom of a full-throttle boy. She has a Master's degree in Accounting and is a Certified Public Accountant. After working as an auditor for international accounting firms she quit to pursue a dream of becoming a pastry chef. While in Patisserie school she and her husband decided to adopt and she decided to stay at home. When the decision to homeschool was made she read dozens of books on homeschooling methods and early childhood education. From these resources she decided to blend the Classical, Charlotte Mason and Unit studies approaches for their homeschooling adventure. Martha designed a curriculum to use with her son starting when he turned three years old. That was the beginnings of this curriculum.
Carolyn is Martha's Mom and inspiration for this curriculum. She has a Masters in Early Childhood Education, with an emphasis in Special Needs. Carolyn began her career as a Kindergarten teacher in the Public school system. She taught Kindergarten for over thirty years. For the last twelve years she has been working with the First Steps program and does therapy with children between the ages of birth to three. Over the years she has taught at Morehead University and Arkansas State University; she has lead countless seminars for teachers and educators and has worked for the Child Care Council. Children are her life and she finds complete joy in teaching them, working with them and just being around them. Teaching children was truly a calling for Carolyn. She completely supports Martha's decision to homeschool and has been a wonderful resource over the years.
My Review:
Upon receiving the Flowering Baby CD's I thought I am really not going to enjoy doing any type of curriculum with my very rowdy 2 almost 3 year old little spit fire. He isn't just a handful he is two or three handfuls. But after looking through the material that I was sent I soon realized that Joshy is really going to enjoy this. Just a tiny note you can get CD's like I did or you can get a downloadable version in a PDF. So a typical day for Flowering Baby looks like this:
Language: Eat a F: fruit or figs.
Math concepts: Count from 1 – 5.

Count in Spanish from 1 – 5 (uno, dos, tres, cuatro, cinco.)
Song of the day: Itsy bitsy spider.
Story of the day: Big red barn.
Color of the day: Red.

Get a brown bag or extra gift bag for today's activity.

Ask your child to gather small red items from around the house and place into the bag.
Shape of the day: Square.

Play "I spy" something square around the house or outside.
Other: Sensory box.

If you don't have a sensory or sand box outside then you can make a small one for inside play.

Use a shallow plastic bowl with a lid and pour sensory item inside (rice, dried beans or oatmeal) and let your child play.

It is fun to use a few toys to see how the sensory item moves and changes.

Note: always monitor your child when they are playing with sensory items.
We had finger painting on our list of to do's. So since my children have never got to experience finger paints I went to the store and picked up some washable finger paint. Let's hope it is indeed washable. And here is the finished product. He has done his own little masterpiece and then I got him to do one for mommy. This curriculum is pretty easy to just dig right into. You don't have to feel you need to start at the beginning because you may miss something. You just look

through

it

, find your child's age and then look over the activities to see what will suit you and your child.
We had the pleasure of reviewing both the "Two to Three" and the "Three to Four" age ranges. You will find the links below

.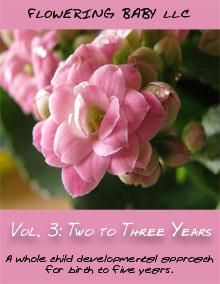 Price $30.00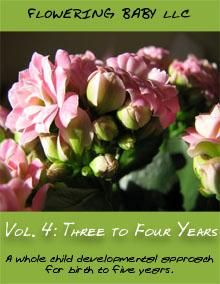 Price $30.00
Flowering Baby is pretty simple and straight forward. I had absolutely no problems understanding it and following it and I'm sure your experience will be the same. The mother daughter team that created this product for young children made it very user friendly and quick. They realize your time is very valuable so you can actually pick and choose which parts of it to use in a single day. Your baby may not be in the mood for a song that day and that is okay.We used finger paints and made play dough creations for our learning time. My baby loves to create and destroy... sorry but that's how we
roll here at the Patterson's. Each le

vel

is $30 each or you can choose to purchase the entire five year curriculum for $132. But even better the creators of this awesome curriculum are offering a 10% discount if you use Blog10 when ordering. NOTE---This discount is good on the main website only. How awesome is that?
Disclaimer
:

I received a free copy of this product through the Schoolhouse Review Crew in exchange for my honest review. I was not required to write a positive review nor was I compensated in any other way. All opinions I have expressed are my own or those of my family. I am disclosing this in accordance with the FTC Regulations.