I was asked to review
Essentials in Writing
for my child who did their
fourth grade DVD curriculum
. We started out with the grammar section and after awhile we decided it would be okay if we moved to the composition section. You will find it a very full, complete program that covers everything for your child. For those of you not familiar with
Essentials in Writing
they are completely video based with go along worksheets that you can print out. It is a very self-contained formula that the creator chose and it is also very affordable to the average homeschool family.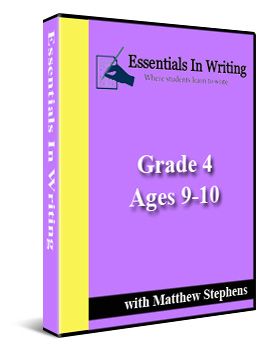 We were able to start from the beginning and work our way through without any problems. Hunter was familiar with all that he was being asked to do so it was a win/win from the beginning. He was able to have the teacher there literally at his fingertips and if there was anything he had forgotten he could always go back and look at the class video again. This edition is for the 4th grader in your life, appropriate for ages 9-10. It includes 28 lessons for the grammar portion and 30 lessons for writing portion.
The price of the program is $40 but that includes a downloadable link to print your own go along worksheets. If that is something you would rather not do there is a workbook also available at an added cost. What my son liked the most was it was easy for him to do without me hovering. My take, affordable and I didn't have to hover but always nearby if needed. This was very important for us this year because I wanted him to gain more independence.
Besides the grammar aspect there is some focus placed on writing and composition. Hunter enjoyed this a lot more I think. He loves to let his imagination run wild. He is really something to see his writing to take on so much more shape than in times past. The writing portion takes the student from the beginnings of the writing process and shows them how it all comes together this is essential in that it shows them why this thought process is taken to reach the ultimate goal of a formal paragraph and later essays and term papers.
EIW spans the whole as far as what grades are offered. They offer grades 1-12, so even the upper grades are included. You can also teach multiple children with it because you can print the worksheets yourself so that is a plus. And soon they will incorporate some high school electives.
Taken from their website:
In Fourth Grade, your child will learn: detailed sentence structure, additional grammar, additional capitalization/punctuation rules, proper use of a friendly letter, using the writing process to compose narrative, descriptive, and expository writing (including formal paragraphs), effective writing skills , multi-paragraph composition, the process to complete an information report, other forms of written communication, and other topics.