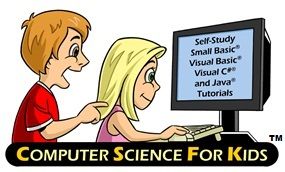 My children were asked to review a course called
Beginning Microsoft Small Basic
by
Computer Science for Kids.
This is a really fun course for them as well as for us parents to learn more about computer programming and web design. This tutorial is interactive and can be downloaded and done right on your own computer. It was aimed for the absolute beginner so ages 10 and older should be able to understand and execute what they are being taught. There are 11 chapters and over 500 pages of notes and samples to guide the student. The chapters consist of program design, text window applications, among others. But probably the best part to my kids was the fun aspects of the tutorial. A Savings calculator, number guessing game, card game, a state capitals game and many more.
No programming experience is necessary, but familiarity with doing common tasks using a computer operating system (simple editing, file maintenance, understanding directory structures, working on the Internet) is expected. The course requires XP-SP2, Vista, or Windows 7, ability to view and print documents saved in Microsoft Word format, and the Microsoft Small Basic development environment (Version 0.9 or higher).
The website offers a few ordering options for the customer. You have the option of ordering paperback textbook format which includes a free E-Tutorial E-Book Internet download which is $59.95 w/free shipping. Or you have a second option which is E-Tutorial E-Book Internet download which is $34.95 (sale price ending July 4th). The second options saves you some and you are able to access right then.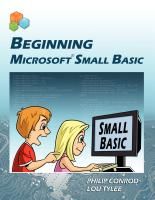 Well I will be honest, it took my 15 year old daughter showing me how to even get started using the course before I could teach the younger ones. The main problem we had was trying to find the file in the very beginning so we could even start. It was a little difficult. But once we found it the program was easy to understand and follow and we were flying through it. We were glad our family was chosen to review the product because we had always wanted to try it especially for use in our upper level grades.
If you are curious to see what this product is all about here is a
link
to a sample
chapter
. If you do what the program tells you and you receive an error message than there is probably something you typed in wrong. It causes the student to slow down and take their time. My two older children, ages 15&10 were forced to really think it through and examine things which is a plus. Because kids nowadays are in such a hurry to rush through their lessons. Hopefully this will spark something in them to choose computer programming as a career.