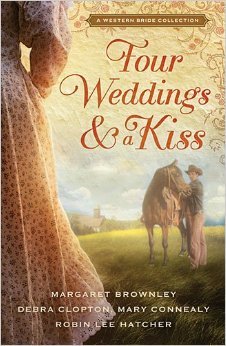 About the Book:
In 1885 five western preachers sit around a campfire talking about unlikely couples they've seen God bring together.

"Spitfire Sweetheart" by Mary Connealy

Maizy Place is an unruly tomboy. When she causes an accident, injuring neighbor Rylan Carstens, she becomes his unlikely caregiver. Rylan has never noticed how pretty his infuriating neighbor is, and he never expected to fall in love.

"Love Letter to the Editor" by Robin Lee Hatcher

Molly Everton is the outspoken daughter of the town newspaper's owner. When her father brings in an outsider to be editor, she tries to drive him out of town. But Jack Ludgrove is not intimidated. He's resolved to change Molly's mind about him—as an editor and as a man.

"A Cowboy for Katie" by Debra Clopton

Katie Pearl is uninterested in men and love. But she needs help on her ranch and hires Thad Rayburn, a wandering cowboy looking to make a buck. Will Thad change Katie's mind?

"Saving Grace" by Margaret Brownley

Grace Davenport is either the unluckiest woman alive—or a killer. When her third husband is found dead, Grace is arrested. Attorney Brock Daniels isn't interested in the case—until he meets Grace. Only a miracle will prove her innocence, but the joining of two lonely hearts may be their saving grace.
About the Authors:
Margaret Brownley
is a
New York Times
best-selling author with more than thirty books to her credit. She is also a former RITA finalist and a current finalist for a Readers Choice Award. Margaret and her husband have three grown children and make their home in Southern California.
website: margaret-brownley.com Twitter: @margaretbrownly Facebook: MargaretBrownleyAuthor
Best-selling novelist
Robin Lee Hatcher
is known for her heartwarming and emotionally charged stories of faith, courage, and love. Her books have won the Christy Award, the RITA Award, and the Carol Award, plus many others. The author of over 70 books, Robin and her husband make their home in Idaho where she enjoys spending time with her family, her high-maintenance Papillon and the DC (demon cat). Twitter @robinleehatcher Facebook: robinleehatcher Website: robinleehatcher.com
Bestselling author
Debra Clopton
has sold over 2.5 million books and her holiday story, OPERATION: MARRIED BY CHRISTMAS has been optioned for an ABC Family Movie staring LeAnn Rimes. A sixth generation Texan, Debra lives on a ranch in central Texas with her husband Chuck. She loves to travel and spend time with her family.
Mary Connealy
writes romantic comedy...with cowboys. She is a Carol Award winner, and a Rita and Christy and Inspirational Reader's Choice finalist. She is the author of bestselling Kincaid Brides Series: Out of Control, In Too Deep, Over the Edge. Her work also includes Lassoed in Texas Trilogy, Montana Marriages Trilogy and Sophie's Daughters Trilogy. She also wrote Ten Plagues--a romantic thriller, and The Historical Society Murders--three cozy mysteries, under the name Mary Nealy. Mary is married to a Nebraska rancher and has four grown daughters and two spectacular grandchildren.
My Review:
Spitfire Sweetheart
Maizy MacGregor has injured handsome rancher Rylan Carstens, endangering the welfare of his ranch. Now, he is on the road to recovery and she is helping the best that she can. The more they work together the closer they seem to grow, will they find love that runs so deep?
A Love Letter To The Editor
All Molly Everton wanted was for the new Editor, Jack Ludgrove, to leave town, but now...she's not so sure. And neither is he, its seems, he can't keep his mind on his work, and planned to leave soon, now what?
A Cowboy For Katie
Treb Rayburn needs a place to work and Katie Pearl needs help rebuilding her ranch. Can these two leave their differences behind and settle down for love?
Courting Trouble
Grace Davenport awaits her sentence behind cold, iron bars, little does she know that her son has a trick or two up his sleeve.When it seems his mother is going to be found guilty, he calls on Brock Daniels, a well-educated Philadelphia lawyer, for help. As Brock and Grace learn more about one another, Brock is convinced Grace is everything he's ever needed, but does Grace feel the same?
A perfect collection brought to you exclusively by four brilliant authors of our time.
A Western Bride Collection
, is bursting at the seems with romance in the west. The talent of these four authors is proven in the writings of these great stories sure to warm your heart and soul.
**Disclosure** This book was sent to me free of charge for my honest review from Litfuse Publicity.