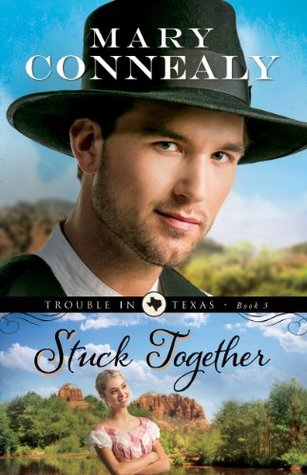 About the Book:
Tina Cahill, newly arrived from the East, is determined to get the saloon in Broken Wheel, Texas, closed for good. To that end, she pickets outside the place every afternoon. Unfortunately, so far no one has paid any attention.

Vince Yates earned the nickname "Invincible Vince" because of his reputation for letting absolutely nothing stop him. Not his tyrant of a father. Nor the injuries he suffered in the Civil War. Nor the fact that he is Broken Wheel's only attorney and sheriff yet has no law degree.

But Vince is about to face his biggest challenge yet: his past has just caught up with him. His father, mother, and the sister he didn't know he had show up in Broken Wheel without warning. His father is still a schemer. His mother is suffering signs of dementia. And his surprise sister immediately falls for one of Vince's best friends. Vince has a lot of people to take care of, and Tina doesn't approve of how he's handling any of them. But with almost all the other men in town married off, Vince finds himself stuck with feisty Tina over and over again. Of course, Tina is the prettiest woman he's ever seen, so if he could just get her to give up her causes, he might go ahead and propose. But he's got one more surprise coming his way: Tina's picketing at the saloon has revealed a dark secret that could put everyone Vince loves in danger.
About the Author:
Mary Connealy
is an award-winning, bestselling author known for her fun and lively historical romances. An author, teacher, and journalist, Mary lives on an
eastern Nebraska
ranch with her husband and has four daughters and two grandchildren. Learn more at www.maryconnealy.com.
My Review:
Broken Wheel's lawyer and lawman, Vince Yates is in for a rode awakening, when his wretched father arrives on his doorstep. Most would think after not seeing your parents for many, many years that it would be a happy reunion but not so in Vince's case. His scheming father even brings his sick mother and his mistresses daughter. But even though this man says he is here for a visit as always he leaves---only this time he leaves Vince with these two women that he barely knows.
Tina Cahill, is Broken Wheel's picketer and chef at Glynna's Cafe. Although the people of the town love her and enjoy her cooking, they could care less if she succeeds in her cause. Shots are fired which interrupts her trying to show support for her cause.
As always Mary Connealy can give you a gun-fight, a jail break and a missing person all rolled into a sure fire hit!
**Disclosure** This book was sent to me free of charge for my honest review from Bethany House.