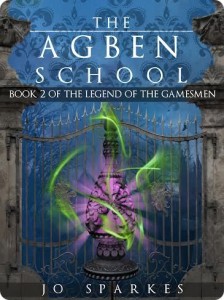 About the Book:
Agben had stood for a thousand years. A mysterious school housing more than students, it was the seat of the powerful Women of Agben, and the center for harnessing the potency of herbs. Few knew all that transpired within the walls.
And now Marra stood at its gate.
Friends and support stripped from her, the fragile life she'd built for herself now lay in tatters. And the source of this evil hunted her like a deer culled from the herd.
The gateway before her was her only hope.
For as the city itself crumbled, all depended not on a prince trying to save his people, nor the valiant men who'd brought them this far.
Everything depended on finding a magic powder in the vaults of Agben itself.
Everything depended on
her
.
About the Author:
A well-known Century City Producer once said that Jo Sparkes
"…writes some of the best dialogue I've read."
Her body of work includes scripts for Children's live-action and animated television programs, a direct to video Children's DVD, commercial work for corporate clients. She won the 2012 Kay Snow award for her screenplay, Frank Retrieval.
She's written numerous articles for internet sites. As a member of the Pro Football Writer's Association, she was a contributing writer for the Arizona Sports Fans Network, where she was known for her humorous articles, player interviews and game coverage. Jo was unofficially the first to interview Emmitt Smith when he arrived in Arizona to play for the Cardinals.
She served as an adjunct teacher at the Film School at Scottsdale Community College, and wrote "Feedback How to Give It How to Get It" for writers, actors, and other artists.
Her latest book is the fantasy,
The Agben School
.
My Review:
The amazing city of Agben has sheltered many people for a countless number of years. Now Marra enters the city to start a new life and to show the world what she is made of. As the city starts to slowly fall away, Marra and a few others must ban together to save the city.
Marra must find the secret vault that hides the magic powder. The only problem with this is that they are in hiding, with no easy way out. Many people believe that the prince should help, but he doesn't feel the same way. Marra is willing to help the people of this city, but she can't do it on her own.
This book has many twists and turns, the characters and plot line are strong. The second book of the The Legend of the Gamesmen series was able to hold my attention and is a very good addition to the series.
**Disclosure** This book was sent to me free of charge for my honest review from the author.