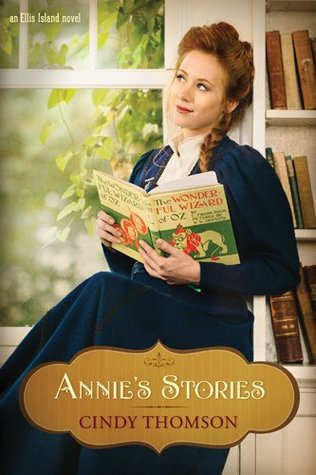 About the Book:
The year is 1901, the literary sensation The Wonderful Wizard of Oz is taking New York City by storm, and everyone wonders where the next great book will come from. But to Annie Gallagher, stories are more than entertainment—they're a sweet reminder of her storyteller father. After his death, Annie fled Ireland for the land of dreams, finding work at Hawkins House.
But when a fellow boarder with something to hide is accused of misconduct and authorities threaten to shut down the boardinghouse, Annie fears she may lose her new friends, her housekeeping job . . . and her means of funding her dream: a memorial library to honor her father. Furthermore, the friendly postman shows a little too much interest in Annie—and in her father's unpublished stories. In fact, he suspects these tales may hold a grand secret.
Though the postman's intentions seem pure, Annie wants to share her father's stories on her own terms. Determined to prove herself, Annie must forge her own path to aid her friend and create the future she's always envisioned . . . where dreams really do come true.
About the Author:
I'm a full-time writer dedicated to telling the legacy left to us by those went before.
I write historical fiction, genealogy-related articles, history articles, and short stories. I'm also a baseball fan. My favorite team is the Cincinnati Reds, but I have a soft spot for the Cubs who haven't won a World Series since my cousin pitched for them in 1908.
My Review:
Annie Gallagher, An Irish immigrant, enjoyed the days she would travel around with her story telling father. All too soon it seems that, that dream was snatched away from her, she soon flees to America to find work and maybe a new life. She arrives on the doorstep of the Hawkins House, they provided her with shelter and friendship. Although she feels alone, she finds joy in reading her deceased fathers stories.
All American Stephen Adams, a king mail carrier enjoys bringing letter to Annie and countless others. As Stephen ad Annie are drawn closer, he decides that maybe the stories written by Annie's father should be published. Soon the love between them blossoms and thrives just as they seek out a publisher for the stories.
Written in an era of time that I long to be a part of, this story will touch like no other.
**Disclosure** This book was sent to me free of charge for my honest review from Tyndale