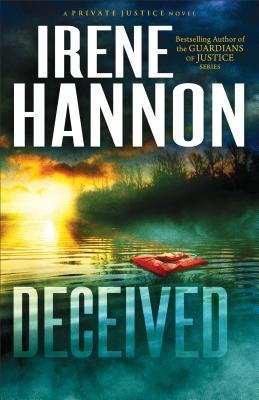 About the Book:
For three years, Kate Marshall has been grieving the loss of her husband and their four-year-old son in a boating accident. But when she spots a familiar-looking child on an escalator in the mall, she is convinced it is the son she thought was dead. With police skeptical of her story, she turns to private investigator Connor Sullivan. The former Secret Service agent is dubious but agrees to investigate. Digging into the case he discovers that the incident may have been no accident at all. But if Kate's son is alive, someone is intent on keeping him hidden--and may be willing to go to lethal lengths to protect a sinister secret.
As Irene Hannon's many fans have come to expect, "Deceived "is filled with complex characters, unexpected twists, and a riveting plot line that accelerates to an explosive finish.
About the Author:
Irene Hannon
is the author of more than forty-five novels, including
Vanished
,
Trapped
, and the bestselling Heroes of Quantico and Guardians of Justice series. Her books have been honored with two coveted RITA Awards from Romance Writers of America, a Carol Award, two HOLT Medallions, a Daphne du Maurier Award, two Reviewers' Choice Awards from
RT Book Reviews
magazine, a Retailers' Choice Award, and a National Readers' Choice Award. In addition, she is a Christy Award finalist, and
Booklist
included one of her novels in its "Top 10 Inspirational Fiction" list for 2011. She lives in Missouri. Learn more at www.irenehannon.com.
My Review:
Kate Marshall lost both her husband and their 4 year old son in a boating accident. After the time of three years has passed she is still not over their deaths---which is totally understandable. But she is tarting to think she is losing it because she really believes she has seen her son at the local mall. She thought at first calling the police would be a good place to start but they may get the wrong idea so that is no longer an option. Instead she hires a private investigator to get down to the bottom of this.
Former secret service agent Connor Sullivan is on the case to help the grieving widow. At first he felt that maybe Kate was seeing things or it was a case of a distraught wife and mother seeing things. But after some careful investigating of the mall's camera feeds he sees exactly like Kate is talking about. He investigates the sightings and comes up with his conclusions.
So together Kate and Connor start to sort through this accident that doesn't seem so open and shut as it once did. The deeper they get the more things they find that point to foul play. But as the two of them work so closely together they get under each others skin. Connor has never let work interfere with romance, but this time it seems a little different. Is Kate's son really alive? Will the two of them come to the conclusion that something else happened the day of the accident?
The author tied this mystery up in a perfect bow! It is done with great anticipation, sprinkled with romance and laced with mild humor. It was action filled and drama packed---great book!!
**Disclosure** This book was sent to me free of charge for my honest review from Revell.