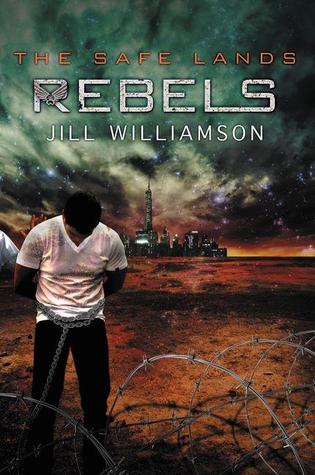 About the Book:
In this third book in the series of fantasy/dystopian novels from award-winning author Jill Williamson, three teens must try to hold on to their values amidst the subjugation and lies of the government.

In this final novel of the Safe Lands series by Jill Williamson, Mason and Omar discover the true meaning of Liberation-a secret the Safe Lands have long kept from their people-but find they are trapped in the low lands with this crucial information. Meanwhile, Levi is forced to turn his attention elsewhere when his new wife, Jemma, is captured and becomes the Safe Land's new queen. His only choice to save her may be to take up the role of undercover vigilante that Omar began, leading the rebels in their quest to overthrow the government. But will that be enough to expose the Safe Land's lies and bring freedom to the people? And will they even want it if it comes?
About the Author:
Jill Williamson is a novelist, dreamer, and believer. Growing up in Alaska led to love books, and in 2010 her first novel,
By Darkness Hid
, won the Christy Award. She loves working with teenagers and gives writing workshops at libraries, schools, camps, and churches. Jill lives in Oregon with her husband and two children. Visit Jill online at
www.jillwilliamson.com
My Review:
After Omar and Mason's public trial, they were sentenced to Liberation. But coming to Liberation, it didn't quite turn out how they expected and it's time for the Safe Lands to know whats going on. Levi devastated by his brothers sentencing but he is more concerned about his wife Jemma. Jemma having been captured during a rescue mission at the herum, is made Queen of the Safe Lands. Levi has vowed that he will get her back no matter what it takes.
Shaylinn is about to pop because she is expecting twins, but they seem to be coming too soon. Mason uses his liberation for the best, by trying to find a cure for the disease that is running rampant in the Safe Lands. But on the quest for a cure he finds something he didn't expect. Levi gets a knock on the door one day and imagine his surprise when it's the Owl. He shows up because he needs to share what he has learned about the government there. They turn to an unlikely allie who will hopefully help them. But can they trust this allie not to turn them in to the enforcers?
Jill Williamson has really got a knack for books and writings such as these. My daughter absolutely loves her to pieces and begs me to get her books to review. She is a big hit! I hope she never stops writing books!
If you would like to purchase this book follow this
link
.
**Disclosure** This book was sent to me free of charge for my honest review from CSFF.