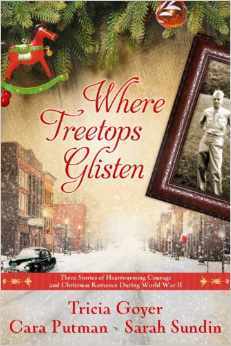 About the Book:
The crunch of newly fallen snow, the weight of wartime

Three siblings forging new paths and finding love in three stories, filled with the wonder of Christmas

Turn back the clock to a different time, listen to Bing Crosby sing of sleigh bells in the snow, as the realities of America's involvement in the Second World War change the lives of the Turner family in Lafayette, Indiana.

In White Christmas by Cara Putman, Abigail Turner is holding down the Home Front as a college student and a part-time employee at a one-of-a-kind candy shop. Loss of a beau to the war has Abigail skittish about romantic entanglements—until a hard-working young man with a serious problem needs her help.

Abigail's brother Pete is a fighter pilot hero returned from the European Theatre in Sarah Sundin's I'll Be Home for Christmas, trying to recapture the hope and peace his time at war has eroded. But when he encounters a precocious little girl in need of Pete's friendship, can he convince her widowed mother that he's no longer the bully she once knew?

In Tricia Goyer's Have Yourself a Merry Little Christmas, Meredith Turner, "Merry" to those who know her best, is using her skills as a combat nurse on the frontline in the Netherlands. Halfway around the world from home, Merry never expects to face her deepest betrayal head on, but that's precisely what God has in mind to redeem her broken heart.

The Turner family believes in God's providence during such a tumultuous time. Can they absorb the miracle of Christ's birth and God's plan for a future?
About the Authors:
Sundin lives in northern California with her husband, three children, an antisocial cat, and a yellow lab bent on destroying her writing career.
Tricia Goyer is a busy mom of six, grandmother of one, and wife to John.
Cara C. Putman, the award-winning author of 19 books, graduated high school at 16, college at 20, and completed her law degree at 27. She lives with her husband and four children in Indiana.
My Review:
White Christmas
Abigail is staying out home while she has family members fighting in the war. It's hard being a young girl in the midst of all this fighting. She has suffered a great loss to her at this point but someone comes along and she is able to do some good at Christmastime.
I'll Be Home for Christmas
Pete is a serviceman that has fought for his country. He comes to the aide of a young girl only to reach an immediate stop with the girls mother. He has to convince her that he means no harm, which is proving to be very difficult.
Have Yourself a Merry Little Christmas
This story to me was a bit unlike the others but still had the feel of family, love, and God's blessings woven throughout. Merry the youngest of the Turner children is also suffering a broken heart and she was very eager to return home for Christmas. This story took place in a farawy land away from home.
Each story was unique yet tied together with the fact of family. It teaches us to always rely on God in the good times and especially in the bad times. The three authors that produced these novellas were able to turn three different stories into a holiday amazement that will definitely hold your attention and leave you begging for more!
**Disclosure** This book was sent to me free of charge for my honest review from Litfuse Publicity.