**Disclosure** These products were sent to me free of charge for my honest review from N Circle Entertainment.
About the Products:
The Snowman
: One crisp, winter morning, a young boy wakes up to find a thick blanket of snow has covered the ground as far as the eye can see. Filled with excitement, the boy decides to build a snowman using a tangerine for his nose, coal for his buttons and eyes, and tops him off with a hat and scarf. Later that night, at the stroke of midnight, the snowman comes to life! The young boy and the snowman embark on a magical adventure of discovery where the snowman explores the young boy s world and in return he takes him flying to his home in the North Pole. Upon arriving at the North Pole, the two join a party as the guests of honor to a very special person. Based on Raymond Briggs book, THE SNOWMAN is a family classic for generations to enjoy.
A Very Awesome Yo Gabba Gabba Live! Holiday Show
: There's only one thing more fun than Yo Gabba Gabba! Live! and the holidays….You guessed it, putting them together! Join DJ Lance Rock, Brobee, Foofa, Muno, Plex and Toodee as they dance, sing and decorate the tree to prepare for the arrival of Santa Claus! Filmed live at New York City's The Beacon Theatre, celebrate the season with the colorful cast of characters singing their hits, including It's Wintertime,Every Snowflake's Different, Just Like You and a holiday version of everyone's favorite Party in my Tummy! Including special appearances by superstar Leslie Hall and the one and only Santa Claus! Snowflakes are falling and we can hardly wait!
Octonauts The Very Vegimal Christmas
: Dive into adventure with your favorite underwater explorers, the OCTONAUTS! Join brave Captain Barnacles, daredevil ex-pirate Kwazii, and medic Peso Penguin, along with the other Octonauts as they explore the world s oceans, rescue the creatures who live there, and protect their habitats above and below the waves! On this very merry DVD, join the Octonauts as they celebrate the holidays! The Vegimals plans for a Christmas feast aboard the Octopod are interrupted when the Octonauts become entangled in a gigantic blob of sea snot! The holiday excitement continues when the Octonauts travel to Professor Inkling s childhood home, an undersea mountain, but soon discover that a rockslide has endangered the local creatures, including Inkling s nephew, Squirt! Can the Octonauts rescue the creatures and save Christmas in time?
Caillou's Holiday Movie
: CAILLOU is an award-winning television series about an inquisitive four year old whose world is filled with learning, fun and imagination and inspires generations of pre-school children to grow emotionally as they explore the world around them. When winter comes to Caillou's house, this curious 4-year-old tackles all kinds of big boy activities like helping Daddy shovel snow, making holiday presents for his family and even discovering how other little boys and girls around the world celebrate the season! Filled with magical moments seen through a small child's eyes, this delightful story will enchant your entire family.
My Review:
The Snowman: $6.59 SRP
This DVD was one that I couldn't wait to view probably because we own the book. It is a sweet story about this little that builds a snowman that takes him on an adventure he will never forget.
A Very Awesome Yo Gabba Gabba Live! Holiday Show: $7.99 SRP
This movie is a live show full of fun and bright music &colors sure to get that preschooler all fired up and excited about participating.
Octonauts The Very Vegimal Christmas: $7.50 SRP
An undersea adventure that is action packed when a mountain poses a problem for all aboard the Octopod. This is one Christmas feast not to be forgotten.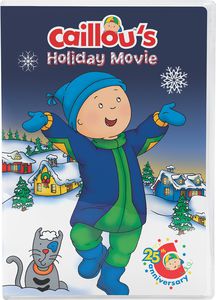 Caillou's Holiday Movie: $8.99 SRP
As always Caillou and his family have some things to each us about the holidays, in particular.
Each of the holiday DVD's are sure to warm the heart of your child because each can be used to educate them in some way. Before I sat down with my little guy to watch these, we grabbed the popcorn and hot chocolate and settled in for some quality time. My four year old enjoys each of the
N Circle
DVD's that we received to review and as his mom, I can rest knowing they are teaching him something.
N Circle
Entertainment run the gambit of educational movies and programs created for our little ones to be educated and to enjoy. My sponsor would like to offer one lucky winner a complete set of all four of these DVD's for their holiday viewing pleasure. Enter the giveaway below!