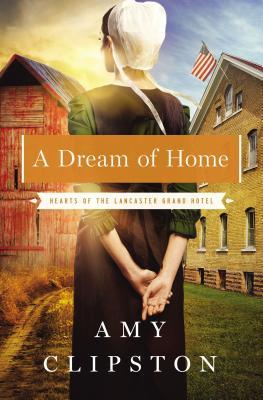 About the Book:
When she moves to Amish country to find peace and healing, Madeleine finds a special community and a special man who pull her out of her solitude into a new life.

Moving to Pennsylvania wasn't in Madeleine s original plans. She should still be in California and should have married her pilot fiance a year ago but death has a way of changing everything. Now the former Air Force flight nurse is living alone in Paradise, Pennsylvania, and working as a maid at the Lancaster Grand Hotel. She isn't exactly a widow . . . but she sure feels like one.

Saul Beiler isn't exactly a widower . . . but his wife is long gone. His six-year-old daughter, Emma, doesn't know that her mother fled the Amish community and married another man but she does know that her dat is lonely, and that a pretty young maedel just moved in next door. Madeline s numb heart begins to thaw as she spends more time with the innocent and ever optimistic Emma. The stronger her friendship grows with the young girl, the more intrigued Madeline grows about the humble, strong, man raising her on his own.

But even as a strange attraction pulls Saul and Madeleine across a stark cultural divide, they and everybody else have to wonder: What could they possibly have in common besides heartache? Will love allow Madeleine to finally find the home she s been dreaming of all along?"
About the Author:
Amy Clipston is the award-winning and best-selling author of the Kauffman Amish Bakery series. Her novels have hit multiple best-seller lists including CBD, CBA, and ECPA. Amy holds a degree in communication from Virginia Wesleyan College and works full-time for the City of Charlotte, NC. Amy lives in North Carolina with her husband, two sons, and four spoiled rotten cats. Visit her online at
www.amyclipston.com
Facebook: AmyClipstonBooks Twitter: @AmyClipston
My Review:
Isn't great how God uses love to get a past heartache, just like he takes care of us when we suffer? Madeleine has suffered greatly so she decides to move to Pennsylvania and raise Emma alone. While living there, she starts working at the Lancaster Grand Hotel to make ends meet. While working there she meets a man by the name of Saul. He himself is raising his daughter alone and the two of them start feeling attracted to the other. It is starting to become obvious to those around them. Will the two of them ever be able to be more than just friends?
Amy Clipston is a great writer. She is able to set the scene in each of her books and she makes the plot line so fascinating that the story becomes a page turner instantly. If you would like to learn more, you can at this
link
.
**Disclosure** This book was sent to me free of charge for my honest review from Book Look.