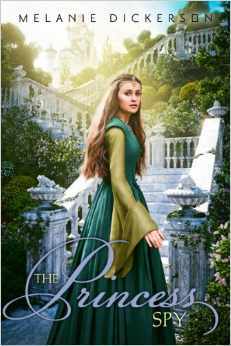 About the Book:
Margaretha has always been a romantic, and hopes her newest suitor, Lord Claybrook, is destined to be her one true love. But then an injured man is brought to Hagenheim Castle, claiming to be an English lord who was attacked by Claybrook and left for dead. And only Margaretha---one of the few who speaks his language---understands the wild story. Margaretha finds herself unable to pass Colin's message along to her father, the duke, and convinces herself 'Lord Colin' is just an addled stranger.
Then Colin retrieves an heirloom she lost in a well, and asks her to spy on Claybrook as repayment. Margaretha knows she could never be a spy---not only is she unable to keep anything secret, she's sure Colin is completely wrong about her potential betrothed. Though when Margaretha overhears Claybrook one day, she discovers her romantic notions may have been clouding her judgment about not only Colin but Claybrook as well. It is up to her to save her father and Hagenheim itself from Claybrook's wicked plot.
About the Author:
Melanie Dickerson is the author of The Healer's Apprentice, a Christy Award finalist and winner of the National Reader's Choice Award for Best First Book. Melanie earned a bachelor's degree in special education from the University of Alabama and has been a teacher and a missionary. She lives with her husband and two daughters in Huntsville, Alabama.
My Review:
Margaretha, the daughter of a duke, believes she may have just found the one she'll marry, Lord Claybrook. This man seems to have all the looks, the smarts, the attitude, even the money. But when a badly beaten stranger arrives and is in need of being healed---Margaretha starts to doubt Lord Claybrook because this strangers knows some things about him. She is the only one that can speak the strangers language and this is the method in which she learns more about Lord Claybrook.
Colin has been chasing Lord Claybrook for some time. After the death of two people that were close to his family, he has decided to hunt this man down to seek revenge. He starts to see that not everyone is aware how truly evil this man really is. He awakens to find himself, badly beaten with a woman at his bedside. He begs for help from this woman and after she vows to help him, he soon realizes that her suitor is the man that he wants to take down.
Margaretha knows a secret about the potential suitor that will son have her hand in matrimony. She feels that she has the power to save all involved, but will she do it?
If you would like to learn more, you can
here
.
**Disclosure** This book was sent to me free of charge for my honest review from the publisher.