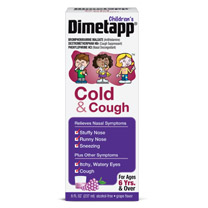 About the Product:
Children's Dimetapp® Cold & Cough tackles your child's most bothersome cold symptoms, including cough, nasal congestion and runny nose. And, it comes in a great, grape flavor that kids love.
Relieve your child's cold symptoms so they can get back to being kids. Dimetapp® Cold & Cough is available in 4 and 8 oz. sizes. It is also available in a Day & Night Value Pack, which includes a special nighttime formula, Dimetapp® Nighttime Cold & Congestion, made to relieve your child's cold symptoms so they can rest better.
My Review:
Cold and Flu season is upon us and as a mother it's hard to find OTC medicines that work just as good if not better than some prescription cold medicines that you may obtain. Dimetapp is a good product. It comes in flavors that my kids love and a value that makes me happy as well. This particular formula, relieves cold symptoms as well as their cough. This is a great thing because you don't need multiple bottles of medicine and you don't have to juggle dosing standards because you need multiple bottles of medicines. The people at the Dimetapp company know this and they want to make things easy for you and your child.
**Dislosure** I received this product free of charge for my honest review from Smiley 360.