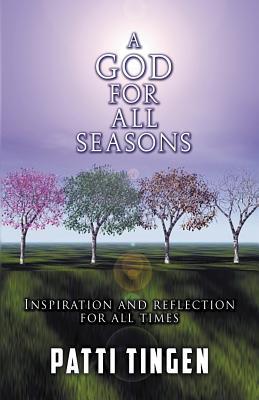 About the Book:
As nature's seasons change, so too do the seasons of our soul. But God's love never changes. He is with us through every season of our lives. Join author Patti Tingen in a year of exploration as she reflects on her own spiritual journey, and provides hope and encouragement for yours - month by month, season by season. Find reassurance and pause for reflection in the inspirational readings for each month of the year.
About the Author:
Patti Tingen is an award-winning author and speaker. She also serves as an elder at her church and is involved in various ministries including prayer and teaching. Patti's nonfiction inspirational books have offered hope and encouragement to many. Her book, A God for All Seasons: Inspiration and Reflection for All Times, won the 2014 Readers' Favorite Silver Medal for Christian Non-Fiction. Patti's prayer is that her words of personal experience, humor and testimony will continue to bless and inspire others. Patti lives in Lancaster County, Pennsylvania with her husband Doug and their cat Braveheart.
Please visit http://pattitingen-author.blogspot.com/ to learn more.
My Review:
As I have gotten older, I have come to realize that we all have "seasons" that we will pass through or have to endure. These "seasons" as they are referred to, are times in our lives that are marked as hard, easy, happy, sad and they are usually times that sort of stick around for awhile. They are not just a typical bad day, they are spans of time. And with these spans of time no matter how long or how short they tend to change us.
The author Patti Tingen, through her book entitled,
A God For All Seasons
takes us along on her spiritual journey in a new way. She does it providing us with lines of encouragement to progress through our own "season". This devotional is set up just a little different than your typical devotion. It is set up and divided by seasons and months of the year.
As I read along in
A God For All Seasons
, it caused my to reflect on my personal seasons of growth and very little growth. I felt inspired by the authors words of encouragement. Each entry based around scripture, the author caused me to pause many times and reflect on the words that she offered. I loved every part of her commentary, but I loved the one she chose for November. Giving God thanks for all things good or bad. Realizing that He can do with us and our situations as He deems necessary is a very hard place for many to come to but I have nonetheless. God is a good God ALWAYS!!!
If you are interested in learning more about this book, you can at this
link
. It is available in paperback or kindle versions.
Disclosure: I received a free copy of this book/Ebook/Product to review. I was not required to write a positive review nor was I compensated in any other way. The opinions I have expressed are my own. I am disclosing this in accordance with the FTC Regulations. I am part of

The CWA Review Crew

.