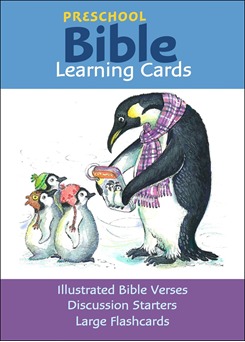 About the Product:
Introduce preschoolers to Bible verses that will get them off to a good start as a member of the family, as a friend, and in their walk with God.
Topical Color coded to find verses on learning, loving, growing and playing.

20

different cards, Bible verses and discussion starters; -durable and washable.

Comes with child safe ring and holes punched in cards to keep them connected out of the box.

Size of cards - 5" by 7"
My Review:
As a homeschool mom, my husband and I have raised 3 use-to-be preschoolers now my husband and I are on our final preschooler. Joshua is a little spunky, spit-fire that hates anything involved with sitting still. I usually start trying to teach my 4 year olds pretty early on. The types of things we learn are shapes, colors, numbers, coloring in the lines, cutting paper, etc. I also teach a Sunday school class for preschool children. I was real excited to receive these cards to review because I am surrounded by preschoolers at any given time and they are so full of life, to be honest it isn't hard to get them to retain anything. Their hardest thing to accomplish is getting them to stay stationary for 10 straight minutes.
Preschool Bible Learning Cards
, are an excellent way to get our little guys and gals to retain more Bible teaching.
As I pulled these cards out to teach my little guy about more of God's word, he was immediately drawn to the pictures. Most of these pictures consist of animals which is his thing right now---he is fascinated with them right now. Each of the illustrations are so precious and they draw little eyes right in. Soon Joshua was wanting to see what these cards were all about. It wasn't long until he requested his "Bible" cards and he started retaining some of the words in the summary section within 10 days of looking at them.
Most of the cards are based on the ESV Bible. Each box contains 20 different cards which include these four topics: Learn, Love, Grow, and Play. Each card comes with a verse from scripture as well as a summarized version of what the scripture verse means. These are the preschool version and the wording is very simple and is geared towards the 0-5 age group. If you would like to learn more about the preschool version, you can
here
. Priced at $14.99, along with free shipping. You just can't beat that! And the cards are large and very durable, they definitely will last many years to teach many children.
For those of you with older children there are other versions available for those age groups
here
and
here
. I plan on using these cards with my four year old and in the following years with my class of preschoolers. These cards are an excellent teaching tool! Take a look at the video below to learn more about this exciting product.
Disclosure: I received a free copy of this book/Ebook/Product to review. I was not required to write a positive review nor was I compensated in any other way. The opinions I have expressed are my own. I am disclosing this in accordance with the FTC Regulations. I am part of

The CWA Review Crew

.