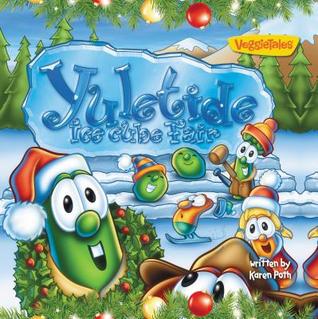 About the Book:
It's that wonderful time of year again---the Yuletide Ice Cube Fair! It's a time of festivity and fun as veggies gather to munch on snow cones, slurp down slushies, and ice skate on the frozen pond. But the greatest part of all is the Ice Cube Carving Contest! The veggies have been busy! They've carved Christmas feasts, trees, angels, and more. Each one is trying to outdo the other in an effort to win the grand prize! But the smallest of all these ice entries is a carving done by Junior Asparagus---a tiny stable with a shepherd on one knee. Kids will discover that it's not what's grand, or bigger, or best that's most important on Christmas---it's Jesus!

Now in the affordable 8x8 softcover format with the addition of a sheet of full-color stickers, this Veggie tale book is sure to become a holiday favorite for young readers and their families.
My Review:
Join in the Veggie Tales, as the annual holiday ice carving contest is set to begin. Each carver entering the contest is asked to carve a block of ice into what Christmas means to them.Junior Asparagus is this years winner as he gently and quietly reminds te entire town of the true meaning of Christmas.
I absolutely adored this story and I plan on reading it to my preschoolers Sunday school class at our Christmas party. A sweet story with the best reminder of all on who is the reason for the season. May we never forget the price He paid and His gift to us! If you would like to learn more, you can at this
link
. Written with 4-8 year olds in mind, this book has the perfect story to bring in the holiday. My boys enjoyed it as I read aloud and they sipped hot chocolate. This one is a keeper!
**Disclosure** This book was sent to me free of charge for my honest review from the Z Blog Squad.