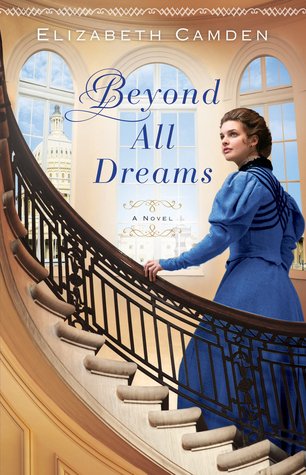 About the Book:
Sweeping and Romantic Historical Drama from an Award-Winning Author
Anna O'Brien leads a predictable and quiet life as a map librarian at the illustrious Library of Congress until she stumbles across a baffling mystery of a ship disappeared at sea. She is thwarted in her attempts to uncover information, but her determination outweighs her shyness and she turns to a dashing congressman for help.
Luke Callahan was one of the nation's most powerful congressmen until his promising career became shadowed in scandal. Eager to share in a new cause and intrigued by the winsome librarian, he joins forces with Anna to solve the mystery of the lost ship.
Opposites in every way, Anna and Luke are unexpectedly drawn to each other despite the strict rules forbidding Anna from any romantic entanglement with a member of Congress.
From the gilded halls of the Capitol, where powerful men shape the future of the nation, to the scholarly archives of the nation's finest library, Anna and Luke are soon embroiled in secrets much bigger and more perilous than they ever imagined. Is bringing the truth to light worth risking all they've ever dreamed for themselves?
About the Author:
Elizabeth Camden is the author of six books and a RITA and Christy Award winner. With a master's in history and a master's in library science, she is a research librarian by day and scribbles away on her next novel by night. Elizabeth lives with her husband in Florida.
My Review:
Anna O'Brien has always had a certain respect for maps, especially after her father died at sea; when she was a young girl. As a map librarian for the Library of Congress, she is surrounded by every map or book imaginable, ones that could possibly help her discover what really happened to her father and his ship. When she is unwilling forced by her superior to attend a Congressional Meeting assisting with any research or map issues, she meets the oh-so-handsome Congressman, Luke Callahan.
The very powerful Congressman, Luke Callahan, finds himself demoted after a shouting match with the Speaker of the House. He finds himself in need of some research and is happy to find that the pretty Ms. O'Brien is in a place to help him. With them having to work closely together, Luke finds it harder and harder for him not to think about her.
Having never been able to trust anyone, Anna is not sure whether to trust him or not, when Luke tells her of his feelings.Upon telling of her fathers fate, it seems he truly cares about her well being, he wish to help her the best he can. But digging deep into to the past reveals a truth that should have never been uncovered.
**Disclosure** This book was sent to me free of charge for my honest review Litfuse Publicity.