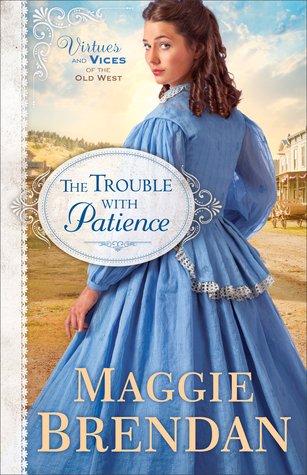 About the Book:
Patience Cavanaugh has lost hope in romance. The man she yearned to marry is dead and her dreams are gone with him. Now she is consumed with the restoration of a dilapidated boarding house in order to support herself. Despite her desire for solitude, Jedediah Jones, the local sheriff with a reputation for hanging criminals, becomes an ever-looming part of her life. It seems like such a simple arrangement: Patience needs someone with a strong back to help her fix up the boardinghouse, and Jedediah needs a dependable source of food for himself and his prisoners. But Patience gets more than she bargained for as she explores the depths of the "hanging lawman"--and finds both betrayal and love.
About the Author:
Maggie Brendan
is the bestselling author of several books, including the Heart of the West series and The Blue Willow Brides series. Winner of the 2013 Laurel Wreath Award, she was a 2013 finalist for the Published Maggie Award of Excellence, a 2013 finalist for the Heart of Excellence Readers' Choice Award, a 2012 finalist for Inspirational Reader's Choice award, and a recipient of the 2004 ACW Persistence Award in Atlanta. She is a member of the Author's Guild; Romance Writers of America; Faith, Hope, and Love; and Georgia Romance Writers. When she's not writing, she enjoys reading, researching for her novels, and spending time with her family.
My Review:
Patience Cavanaugh is attempting to get her grandmothers old boarding house up and running. And as a result of that she doesn't have much time for romance with her life filled with scrub brushes and paint. She has a hard time believing that she will bring the old house to it's former glory, even after all the hard work she has put in. But when Patience interferes with the Marshall's arrest of a common thief, she stumbles upon some help she desperately needs.
Marshall Jedediah Jones, has something to hide---but with Patience around and the fact that she stirs feelings in him, it will be hard to keep those secrets hidden. But a good biscuit and a cup of coffee later, and he's made a deal to help her get that old dilapidated boarding house up and running in no time. When a new guy comes to town and shows interest in Patience, Jedidiah will stop at nothing to keep her safe, even if that means endangering everyone around them.
Maggie Brendan has written a masterpiece! The trouble With Patience is written like a well written movie script complete with action, intrigue, and romance. It is definitely a winner!
**Disclosure** This book was sent to me free of charge for my honest review from Revell.