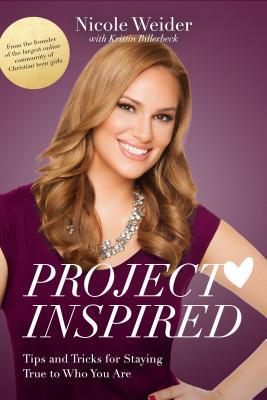 About the Book:
Nicole Weider is on a mission: to help young girls avoid the traps that culture sets. The trap that baits you into thinking you must sacrifice your self-worth in order to be beautiful and popular. Nicole launched Project Inspired in 2010 (www.projectinspired.com), a website for teen girls that analyzes pop culture and explores ways girls can live in their authentic beauty.
In Project Inspired, Nicole shares tips for you to stay true to yourself--to how you were created to be--as well as how to dress modestly yet fashionably, how to make a positive difference in the world, and how to enjoy your teen years while standing firm in your faith. With photographs, real behind-the-scenes stories from inside the fashion world, and an honest look at living a life that looks great on the outside and feels great on the inside, Project Inspired is a book you'll turn to time and time again.
My Review:
Nicole Weider explains how when she finally achieved her status as a model. This being her ultimate dream, you would think that would of caused a huge adrenaline rush for her that never went away. But, not so fast. She quickly learned that the only one and the only thing that could satisfy that need in her was God. The author has turned her life in a different direction, one pointing straight up to God, Himself. She has taken her know how and started a great website for young girls to better themselves overall. And now she presents us with a book full of her beauty secrets.

I really enjoyed using the book but I think my 18 year old daughter enjoyed it more. There is even an Inspired Style Quiz where you can assess your signature style. I was classic my daughter was edgy. We had a lot of fun looking through and reading the author's tips. We were even happy to find out that we use some of her suggested beauty products already.

**Disclosure** This book was sent to me free of charge for my honest review through my participation on the Z Blog Squad.