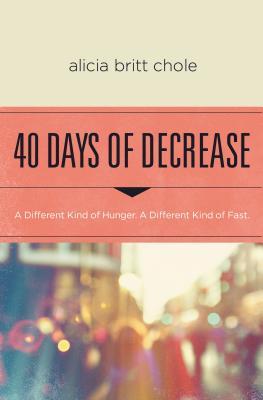 About the Book:
We ache deep within to meaningfully honor Christ's resurrection. Yet, in practice, this focal point in the liturgical calendar is often a celebration of public holiday more than it is of humanity's hope. At day's end, we fall asleep well-fed and perhaps even grateful, yet still somehow something short of awed. Enduring awe is rarely the fruit of a morning's celebration. Enduring awe is the fruit of daily participation with Jesus, our resurrected Love. 40 Days of Decrease invites readers to walk with Jesus through the holy decrease of less and loss that led Him cross-ward and beyond.
Each day offers a meaningful consideration of Jesus' journey through reading and reflection and then issues a challenging daily fast. Instead of social media, chocolate, and designer coffee, 40 Days of Decrease calls communities to a Lenten fasting of apathy, injustice, resentment, hypocrisy, and more for the love of God. After all, in the same way self cannot satisfy self no matter how long it feasts, self cannot starve self no matter how long it fasts. Decrease is only holy when its destination is love. We thin our lives to thicken our communion with God.
My Review:
40 Days of Decrease is a DIFFERENT type of fast more different than anyone I have ever seen before. And it definitely would not be considered traditional. I picked up this book to review in the hopes that it would give my family and I a guide to traditional fasting but it is quite the contrary. I know at this time it is quite popular but unless you are looking for something completely different than traditional this may not be the book for you.
The author takes you on a 40 day journey that can be done anytime throughout the year but is typically or recommended for those days preceding lent or right up until Easter. Each day is a different type of fast. I believe there was one that centered around food they rest centered around behaviors, tendencies, and issues or strongholds we may need to be free from.
While I agree with the author on her very well researched and thought out commentary, this just wasn't the fast I was looking for. The author is very profound and cerebral in her speaking and she discusses the call for change as well as Jewish traditions. Again a very good book if you are looking for something different from traditional way of fasting.
**Disclosure** This book was sent to me free of charge for my honest review from the author.