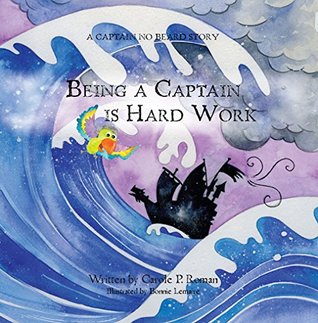 About the Book:
Captain No Beard is determined to travel to Dew Rite Volcano. He won't listen when Mongo predicts a storm or Linus indicates they are headed in the wrong direction. He insists Polly cook in the galley even though the seas are getting rough. What's a crew to do with a stubborn, know-it-all captain?
Will they convince the captain he is barreling headlong into danger, or will Captain No Beard jeopardize both his safety and the crew's with his single-minded determination to go where he wants?
My Review:
Captain No Beard is fast at work creating an even bigger saga for us all to become engrossed on. Captain No Beard feels fine about a decision he is making for his crew but his crew doesn't feel so great about it. And even though they have tried convincing him he just won't budge on his decision to go to Dew Rite Volcano. No matter how much they try to prove him wrong in the situation, he just flat out refuses to listen.
Some things start happening that convinces the captain that he may have made the wrong call in this instance. So that day eventually ends well with everyone learning some very important lessons about each other.
**Disclosure** This book was sent to me free of charge for my honest review from the author.