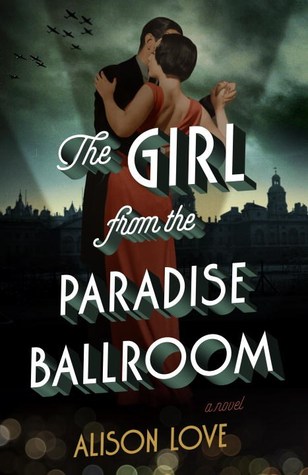 About the Book:
The first meeting between Antonio and Olivia at the Paradise Ballroom is brief, but electric.

Years later, on the dawn of World War II, when struggling Italian singer Antonio meets the wife of his wealthy new patron, he recognizes her instantly: it is Olivia, the captivating dance hostess he once encountered in the seedy Paradise Ballroom. Olivia fears Antonio will betray the secrets of her past, but little by little they are drawn together, outsiders in a glittering world to which they do not belong. At last, with conflict looming across Europe, the attraction between them becomes impossible to resist--but when Italy declares war on England, the impact threatens to separate them forever.

The Girl from the Paradise Ballroom is a story of forbidden love and family loyalties amid the most devastating war in human history.
My Review:
Antonio Trombetta, an Italian singer, loves what he does. He enjoys going from place to place singing his heart out. Now coming home is a different story. Living with his father, his brother and his wife, and Antonio's own wife, can be a bit much. With a baby on the way, things can get a bit crazy at home. His only get away is his singing and his favorite thing to do is watch a pretty little dancer flaunt her stuff all around the Paradise Ballroom.
Olivia Johnson, a British dancer, has many secrets to hide, many things she isn't proud of. One night lonesome night, she tells her gravest secret to a singer, of whom she hopes to never see again. Months pass and Olivia is married to the very handsome Bernard Rodway, life is simple and elegant. One night while Olivia is home alone, there is a knock at the door and there she finds her husband having an asthma attack with the singer from the Paradise Ballroom.
The secrets that Olivia has tried so hard to conceal, seems to resurface the minute Antonio arrives on her doorstep. With everything on the line and wars all around, Olivia and Antonio are left with a grave decision.
The Girl From The Paradise Ballroom is an amazing love story. This book will have you entrenched the moment you pick it up. This author has an amazing way with words and I hope tp read many more books from this author real soon.
**Disclosure** This book was sent to me free of charge for my honest review from the author.