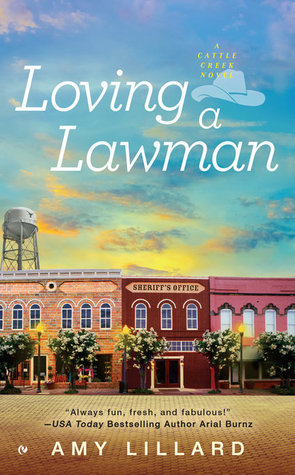 About the Book:
As cowboys, the Langston brothers of Cattle Creek, Texas, know it can hurt like hell to fall off a horse. But it can hurt even more to fall in love. . . .

Sheriff Seth Langston is head over heels for local wild child Jessie McAllen and has been for years. The trouble is she has eyes only for Seth's rodeo star brother, Chase. Even though he considers Jessie his girl, Chase is an incorrigible ladies' man with a wandering eye and no chance of settling down soon.

Jessie is ready to move away from Cattle Creek to put her feelings for Chase behind her, but after she shares a white-hot kiss with Seth, things get a little complicated. Jessie realizes her heart should have been his all along. And in the face of sudden tragedy, they'll discover if their newfound passion will tear the Langston men apart or make the family stronger than ever. . . .
My Review:
Amy Lillard's latest release is entitled, Loving a Lawman, first in the series, Cattle Creek. A great debut novel in that it introduces us to some very great characters to start this series off right. I was upset with Jessie in the beginning because she was falling or thinking that she was for the wrong man--so she frustrated me at the start. But it wasn't long before things started to heat up between her and Seth. I was very intrigued to see where their romance would end up.
The story behind the main characters would literally leave you wanting more. I couldn't stop reading, so it was a definite page turner. The rich characters and the enticing story are made for a minis series, for sure. There are some bedroom scenes but nothing to risque. A great story with a surprising twist!
**Disclosure** This book was sent to me free of charge for my honest review from the author.