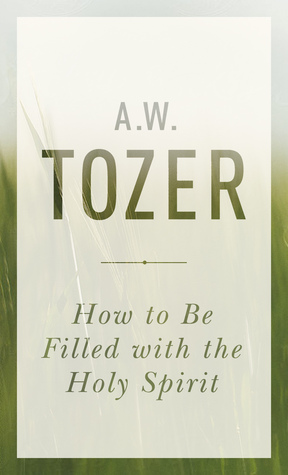 About the Book:
The only way to live with true spiritual power

"Are you sure you want to be possessed by a spirit other than your own? Even though that spirit be the pure Spirit of God? Even though He be the very gentle essence of the gentle Jesus? Even though He be wisdom personified, wisdom Himself? Even though He be as loving as the heart of God?" —A. W. Tozer

In a little book that's hard to swallow, A. W. Tozer teaches plainly who the Spirit is, why we should desire Him, but why few of us do. He instructs us in how to be filled with the Spirit, but first poses this question: Do you really want to be filled?
My Review:
Many people spend their whole lives waiting, wanting, and wishing for the Holy Spirit to fill them. I know someone right now that has prayed and prayed and prayed to no avail and he still hasn't received and it breaks his heart. I try to be of encouragement to this individual and I pray for him to receive and it has yet to happen. It is so disheartening and it is very sad.
Unlike this individual I speak of there are many people that are not interested in this gift and I really think that, that is a shame. Because being filled can transform your life in ways you have never seen or experienced and it is a closeness with God that very few ever experience.
A.W. Tozer is a man that wants it for you as much as you do for yourself. In this excerpt from one of his famous sermons, he tries to tell you and put into words how to achieve this great gift. I loved his approach when asking someone if they are ready to possessed by another spirit that is not their own. A fascinating take by a leader of his time. But his advice is timeless and still rings true, today!
**Disclosure** This book was sent to me free of charge for my honest review from the author.